How to buy a pair of Women's Bike Shorts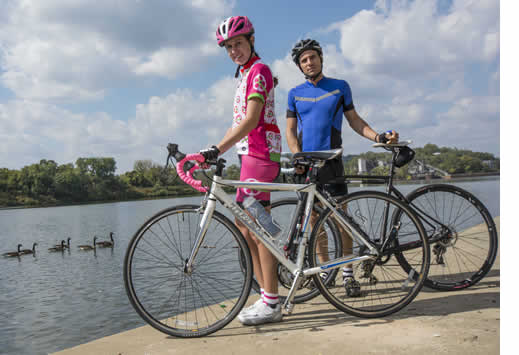 Men's and Women's cycling apparel have many similarities as well as differences. While men's cycling gear has been around for many years, the women's cycling apparel is much more diverse and spread across a variety of body types.
The female shape varies greatly from person to person, so there are more choices. There are cycling shorts for skinny girls - fit and slim, regular Misses, plus size and petite/child types sizes. Finding the right short is like finding your prince charming, you have to kiss a lot of toads, to marry a prince. You might have to try several pairs of shorts to find the one that is right for you. Depending on your mileage on the bicycle, long rides need a thick and dense pad, whereas short, around town bike rides need a focus on freedom of movement and wicking materials. Following are some examples of typical cycling shorts for women. Also see How to buy men's bike shorts.
Women's chamois pads are designed differently than men's. Men's have a cutout running through the center of the pad, a women's chamois pad has padding running through the center of the pad as shown below. Chamois Pads are one of the most important physiological differences, arguably the pad may be the most important when it comes to cycling comfort. It has to do with what's going on in the undercarriage region (pelvic area). Men and women have different structures which require padding and support in different places.
Chamois pads are engineered to provide cushioning where it is needed, and to work in conjunction with a well positioned bicycle saddle - an equally important part of the equation. Cyclists typically spend a lot of time sitting during a bike ride, so it's critical to get this right.
What is the difference between men's and women's chamois padding in bike shorts?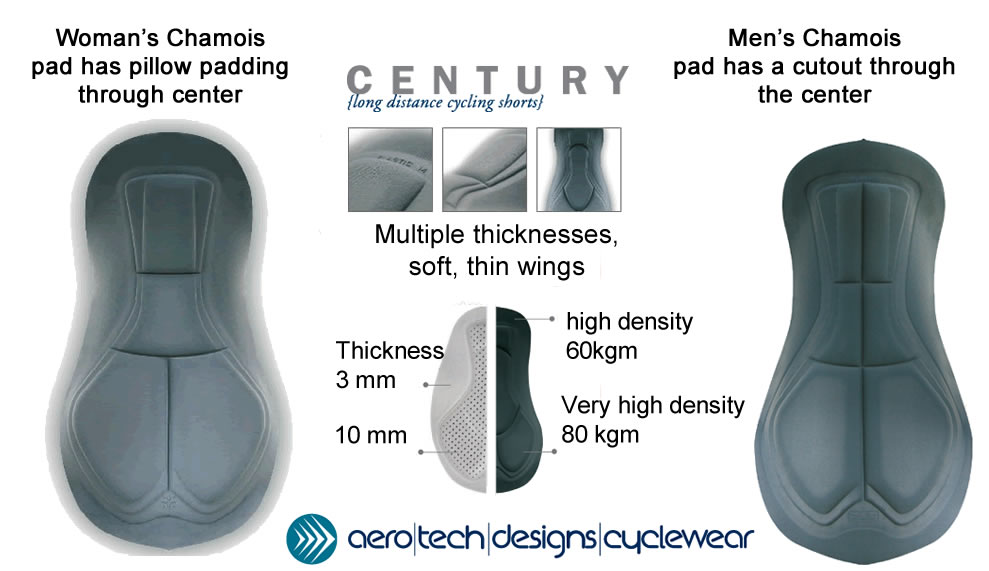 How to Choose a pair of Women's Padded Bike Shorts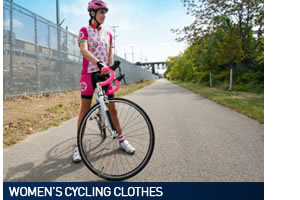 On this page you can see an overview of some of the women's bike shorts available. There are many types of cycle shorts for women because of the different types of riders and personal preferences of today's women. Aero Tech Padded Bike Shorts are for for all levels of female cycling. The images below show the different types of biking shorts for women who ride for fun and exercise. Contact us for more information on all of our cycling apparel products.



To choose a bike short for your personal biking style, you first need to know your options. Most cycle shorts have a foam pad sewn into the bicycle seat area. The padding in the shorts range from thick to thin. The thickest pads act as shock absorbers with different types of gel or foam that is formed into shape using an engineered designed based on cycling motion. The padding also reduces abrasion and cushions the seat area. If you are just starting to ride, or the longer your ride, the more density you need in a chamois pad. The elite pads are designed for long distance riders and are engineered specifically for the female anatomy. A more seasoned bicycle rider may want a thin pad in their bike shorts so that it prevents abrasion and yet feels invisible. Using a thin chamois pad is also popular in triathlon shorts where the short is worn for swim, bike, run.
Cycling Shorts are worn
without

underwear.

The pad in a pair of bicycle shorts is called the chamois pad even though the pads are rarely ever chamois leather anymore. In the 1970's and 1980's bicycle shorts were made of black wool with a leather chamois pad sewn into the saddle area to prevent abrasion. In the early days of bicycle racing, the chamois was lubricated with an oil to create a "slip" so the cycling motion was a smooth glide against the skin. The use of anti-chafe creams and lubricants continue to be an important part of cycling as these creams combined with snug bike shorts do wonders to enhance the comfort of a bicycle rider.
Support Your Bones with a good bicycle saddle, then pad them with a comfortable padding sewn into the Bicycling Shorts.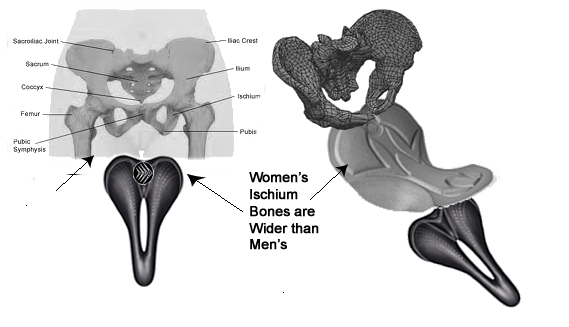 A good bicycle saddle fits your size of bones in the saddle area. If you have a wide butt, you will need a wide saddle. Your weight should be placed on the Ischial bones that are positioned above the saddle supports. If your bones do not line up with the saddle, you may need a different type of saddle.
Hard saddles can actually be very comfortable because they support the bones perfectly which leads to good posture and comfort on the bicycle. The pelvic girdle contains the ischium bones - which supports the weight of your body while seated on a bicycle saddle. These Ischium bones are padded with cushions on the saddle or foam chamois in a bike short.
When shopping for women's bike shorts, you will find that most of the women's chamois pads are wider than men's. They are laminated layers of high performance synthetic fibers like Coolmax brand polyester and other high-end fabrics. The surface of a chamois pad is usually hydrophobic which means that it stays dry. The chamois pad fabric is treated with an antibacterial, carbon or silver ion finish to diminish the growth of bacteria which may lead to saddle sores. A clean chamois pad is an ideal way to prevent saddle sores. Today's synthetic chamois pads are machine washable. Machine washing of a chamois pad is important to remove all bacteria.

Care: We recommend you machine wash your bike shorts and then let them air dry. Avoiding dryers prolongs the life of the rubber Lycra spandex which is knitted into the short. The Spandex is a rubber which is affected by heat. Longer life can be had by air drying your spandex shorts. Machine washing is important because it removes the bacteria that can form in the crotch area. Bacterial is a leading cause of saddle sores which may start with slight abrasion and then get exacerbated by the presence of bacterial. Machine washing removes sweat and bacteria.
Fit: Women's bicycle shorts typically have a narrower waist circumference and a larger hip measure. The thighs on a women's shorts often have a thicker measure than men's. The Women's shorts have a generously cut leg gripper as women often carry more weight on the hips and legs. A few shorts are available in special cuts for fit and slim or plus size or tall cuts. The key component for fit is comfort. The shorts should fit snug so the pad is tight against the skin. The pad should not stick out or protrude out from the crotch area.
Thickness of Pad: The different densities and thicknesses of the padded bike shorts are engineered to provide shock absorption, and abrasion control. Women's bike shorts typically have a pillow in the center and front of the pad, and are wider in the back of the pad. Click the image or link to view the products and read more details on each short tpe.
Women's Bicycle Shorts Overview:
Below are some examples of women's cycling shorts with their and chamois pads.

Women's Bike Shorts: Thinner - Anti-Chafe Pads
Women's bike shorts that have a thin pad are more multi-sport oriented and ideal for experienced riders who are comfortable on their saddle. The size and density of a thin pad make it ideal to eliminate chafe and abrasion between the legs. The pad is large enough to surround the entire saddle area without seams coming in contact with the saddle. The triathlon shorts are also multiple layer as the image below suggests plus they are molded and engineered specifically for swim, bike, run. The construction of the pad, the type of perforated foam and the fabric face enable a comfortable light weight cycle short that is ideal for all types of moving around.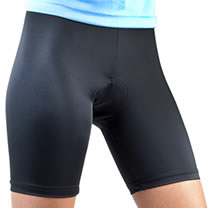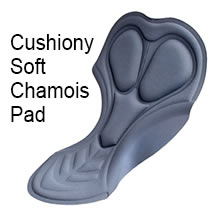 Female Classic Padded Bike Shorts
Thinner - Mid Weight
Women's Classic Black
(Thick), 4 Colorways available in this Bike Short
Thickness: 10 mm Multi Layered Pad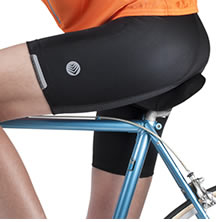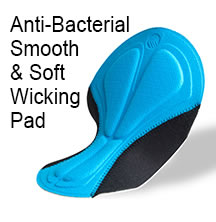 Spandex Road Shorts - Women's Top Shelf Padded Bike Shorts
3M Reflective on side panels with a top shelf pad that is protective, perforated pad.
10 mm thickness on sit bones 3Dimensional
Thickness: 10 mm 6 mm 5 mm
Puzzle construction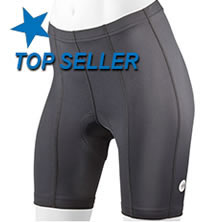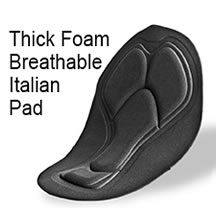 Women's Century Long Distance Padded Bicycling Shorts
Century Thick Padded Short stays dry and is very stretchable, special polyester/Lycra fabric stays dry and cool.
Thickness: 10 mm Elastic, A CyTech pad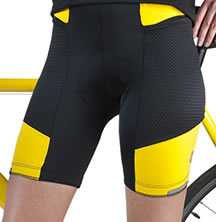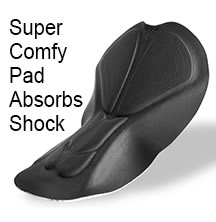 Women's Gel Padded Touring Shorts with Side Pockets
Spandex Road Shorts - Gel Padded Touring Short
Big, Roomy side pockets and layered Gel Pad for extra comfort.
Thickness: 12 mm with Gel Insert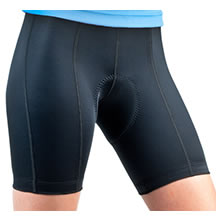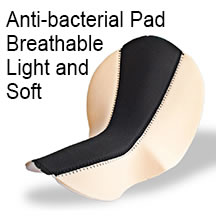 Women's Anti-Chafe Padded Bicycling Shorts
Thin - Anti Chafe
Multi Layer Pad - Thin for Anti Chafe, Light pad
Thickness: 7 mm thick
Aero Tech Designs Cyclewear - Female Bicycling Short Mid Weight Styles
More Female Specific Workout, Triathlon, Fun Bike and Athletic Short Options from AERO TECH DESIGNS Cyclewear! Click the image or link to view the products and read more details: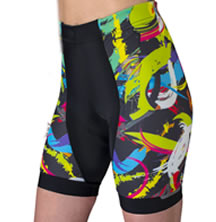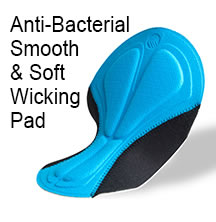 Wild Print Padded Spandex Cycling Shorts
10 mm thickness on sit bones 3Dimensional
Thickness: 10 mm 6 mm 5 mm
Puzzle construction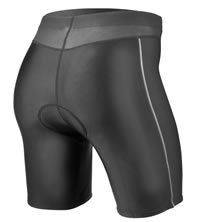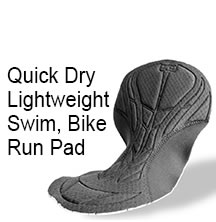 Female Triathlon - Spinning Shorts
Thin - Breathable Perforated Elastic Interface Pad Very Cool
Thickness: 6 mm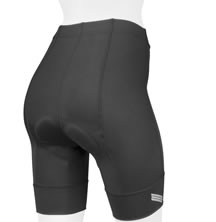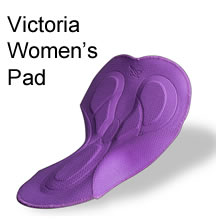 Black P. Petite Padded Cycling Shorts

Destination Quest Padded Bike Shorts - Elastic Free Leg Cuffs
Chamois pad is lightweight and perforated for breath-ability Its design enables a thicker density for the sit bones and a thin density between the legs and in the chafe zones on the bicycle saddle.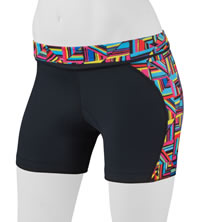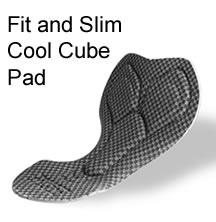 Low Rise Padded Shorts
The Coolcube fabric on the face on the chamois is a brushed polyester and polyamide construction for quick-dry. Length 11 inches / Width 8 3/4 inches. Pad offers protection with a Bacteriostatic polyamide cubed fabric. Foam Density of 80 Kg to help you ride longer and feel stronger
LOOK! Even More Great Female Workout, Triathlon, Commuter, Casual and Athletic Short Options from AERO TECH DESIGNS! Click the image or link to view the products and read more details: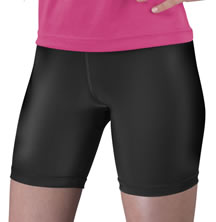 Workout Unpadded Shorts
This short is a basic spandex short for multi-sport uses. It is a spandex short that prevents chafe and supports leg muscles.
It has all way stretch, great compression for moving legs and is available in many colors. Waist elastic and no leg grippers.
Our number one bike short for all our customers - Available X-Small ($19.95) to 6X-Large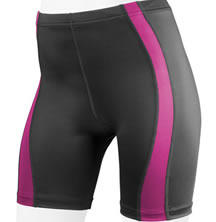 Women's Fitness Shorts
ATD Unpadded Compression
Not Padded - Good for Recumbent Riders, football and baseball compression, and weight lifting.
This type of short is ideal for multiple sports, it prevents chafe between the legs, has grippers so they stay in place during exercise.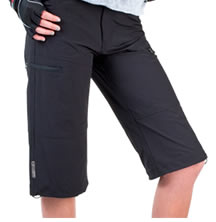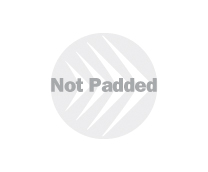 ATD Urban Pedal Pusher Cycling Knickers
ATD Men's Commuter Pedal Pushers - 3/4 Knicker
Stretch Woven Commuter
Not Padded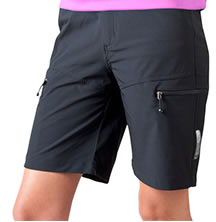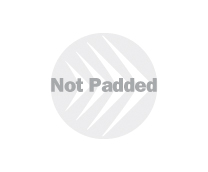 ATD Women's Urban Multi-Sport Commuter Shorts
Bicycle Commuter Multi-Sport Shorts
Stretch Woven Commuter
Not Padded
ORDER YOUR FAVORITE SHORTS TODAY AND ENJOY!!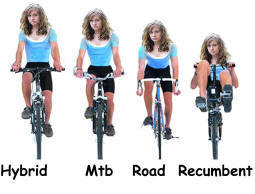 Written by: Cathy Schnaubelt Rogers