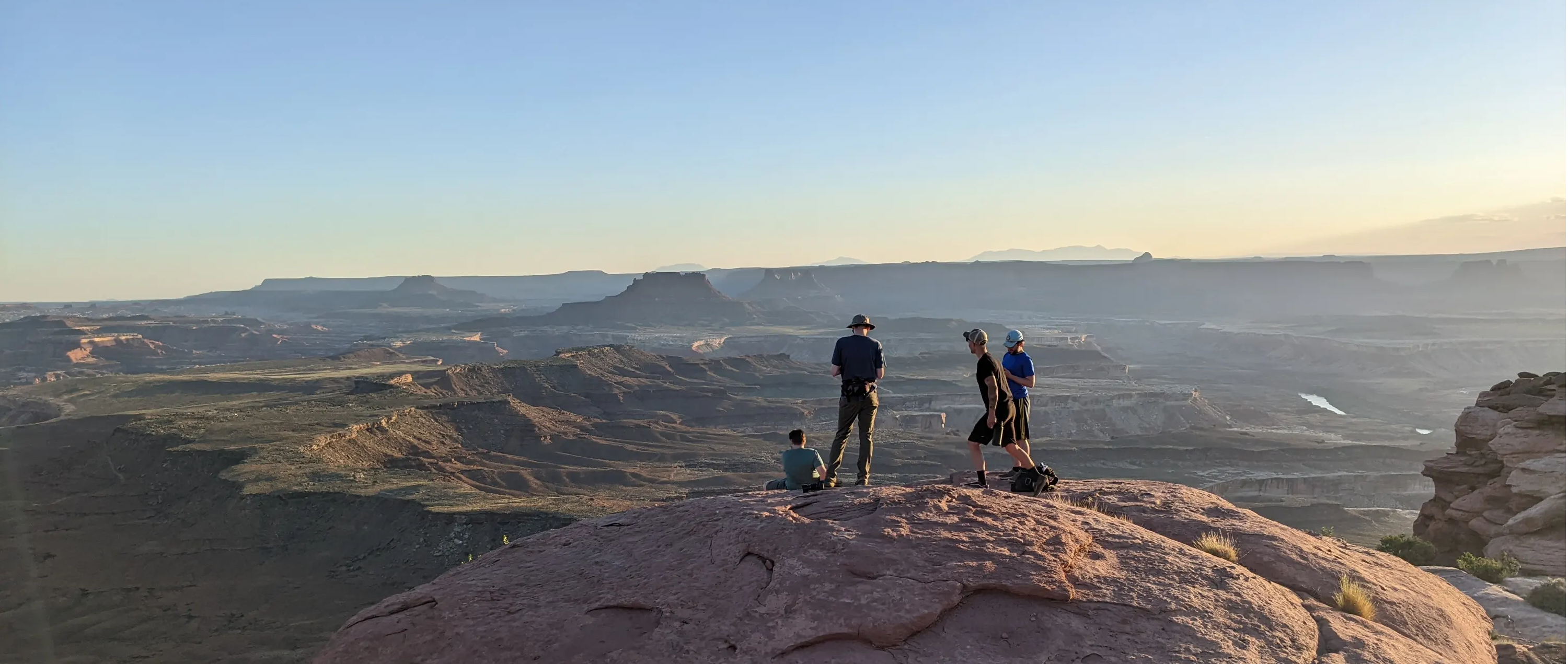 Moab: Is It Really That Awesome?
You probably already know Moab is a big-time outdoor adventure destination if you are reading this. You are considering going there but aren't sure what to expect or may be worried that it isn't what you are hoping for. We recently did a week-long adventure in Moab and nearby Canyonlands and Wild Horse Canyon, and I've decided to write about it. I hope you find it interesting and helpful!
If you are flying to Utah, you are most likely landing in Salt Lake City. This airport is really nice. I've been to plenty of airports over the years, and this one ranks pretty darn high on my list. It's quite big for the size of the city and feels very modern and new. The food options were surprisingly good and reasonably priced. Security was very streamlined, and parking was easy to navigate. A+ operation. It's nice to start and end your trip in a low-stress airport.
Salt Lake City is smaller than one would imagine. There is quite a bit of urban sprawl, but downtown is modest. The scenery around the city is anything but modest. Immediately, you are aware of just how big the space is out in this part of the West. All around are massive snow-capped mountains reaching thousands of feet above the city. They act as a majestic barrier between Salt Lake and the expansive wilderness beyond. After taking a moment to appreciate the scenery, we hopped in our rental truck and headed past the Wasatch Mountains and south to Moab.
Pro-tip: Find yourself a nice vehicle on Turo. Utah is huge, and you'll be driving a decent bit. We found plenty of excellent vehicles for very reasonable prices. You'll be glad you did it.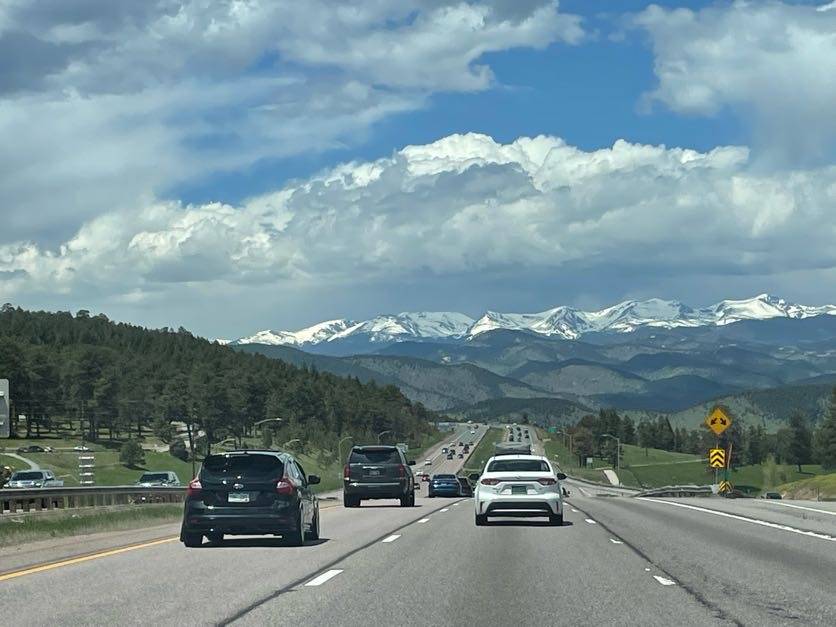 The drive was absolutely epic. I know that's a generic term, but the Utah landscape is deserving. It seemed like every 10 minutes, someone in the truck let out an expression of wonder or disbelief. For hours, we transported ourselves through so many ecosystems. It began with scaling alpine terrain with a raging river alongside the road. Then, expansive fields at the base of mountains so far away it didn't make sense how they could still loom so large took our breath away. Finally, the spring desert came upon us with all the color and vibrancy of a wilderness that only gets to express itself for a few short weeks each year. That expression is proud, powerful, and beautiful. There is an intense sense of how amazing life is when you witness a spring bloom in the desert.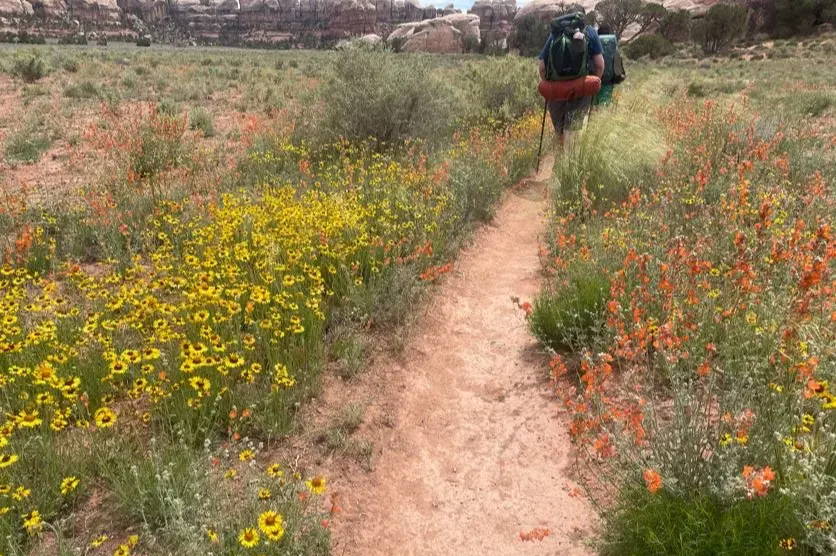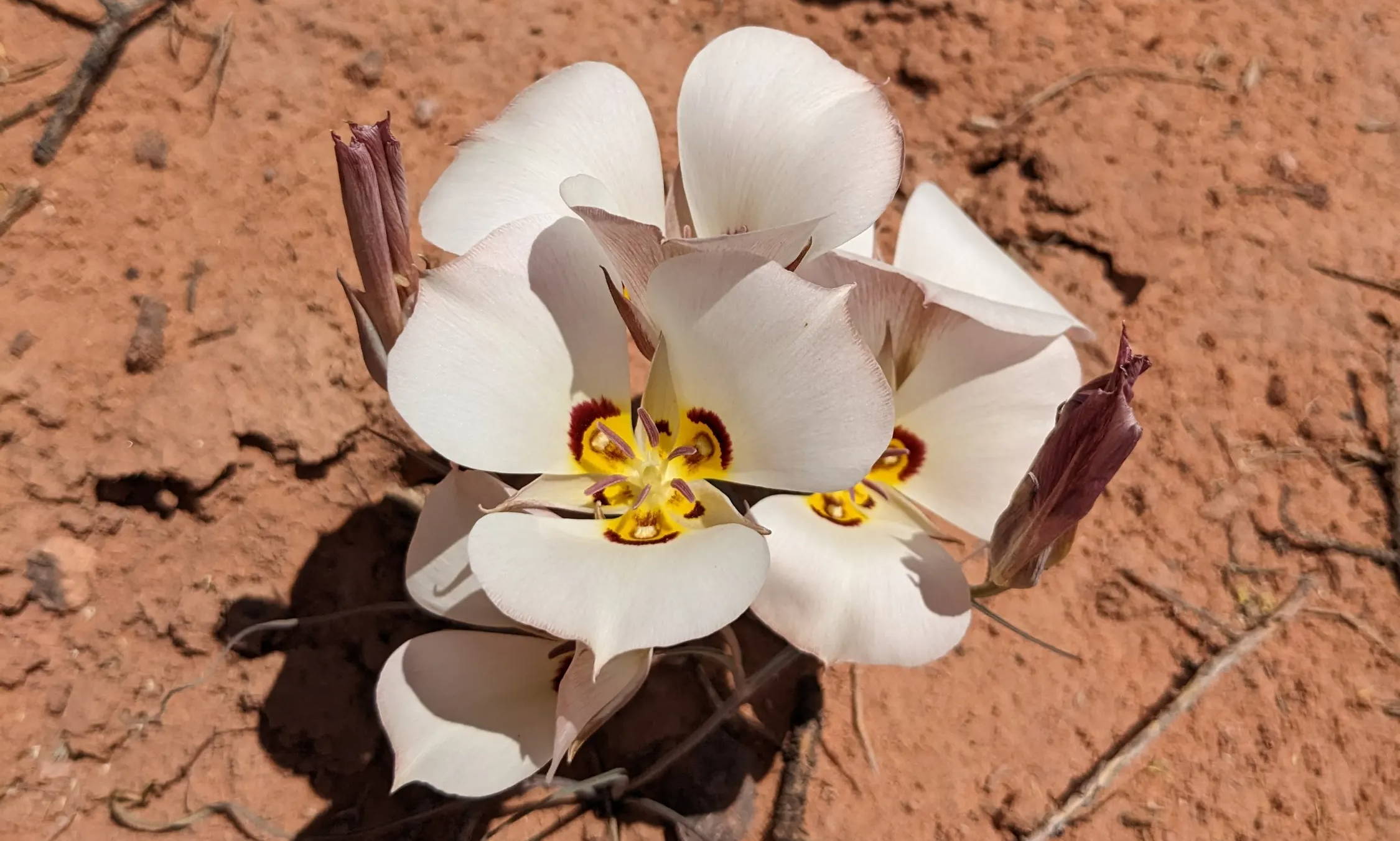 Moab Weather and The Best Time To Go
Our trip was in mid-May. I recommend not going any later than that. It was 90+ degrees in the afternoons, and if we had come just a week later, there would not have been any water left for us to filter and drink when we were away from home base. It does get surprisingly cold there in the winter, so November - February isn't ideal either. Even in May, it would get in the low 50s at night. The temperature swings are really intense and take some getting used to. It would still be better than July, for sure, though. That would be just some absolutely unbearable heat. I had gone to Zion before in early October, and the weather was amazing, so Moab would also be comfortable in the Autumn. My best advice would be to travel to southern Utah from April to May or September to October. While March might seem like a good time to go, it isn't great for bike riding. The upper trails will be closed until the snow melts, and even then, the mud is so thick and sticky it can make the trails impassable. It's best to wait until it dries out enough to make the trails nice and hard-packed.
Moab has a lot to offer if you are an outdoor adventurer: from hiking to mountain biking to water sports to all the 4x4 off-roading you could ever want. Seriously though, you will see more ATVs, Jeeps, and lifted trucks than you ever knew existed. If you get the itch to drive a jeep over a cliff, you can rent one from one of the many ATV rentals along the road. While I enjoy some 4x4 action myself, this trip was about human-powered adventuring, and we stuck to that.
The town is very touristy but not in a cheesy way. All the restaurants we ate in were pretty darn good. The options for good, legit Latin food are plentiful. And thank goodness for that! Nothing hits quite like a good taco and 2 or 6 Modellos after a long day in the desert sun.
It's obvious the economy here is built around tourism, but the main drag isn't full of chain stores and restaurants, and there are more than a few mom-and-pops around town to patronize if that's your thing. There was still a "feel" of independent businesses taking center stage, adding a little charm to the place. The spring arts festival was poppin' at the city park when we visited, and we had a great time partaking in the festivities (another reason why visiting in May is a good idea). There are multiple bike shops to choose from and a few good outdoor gear stores as well. Gearheads is especially awesome because they have a free water station where you can fill up all your jugs before you head out to the campsite. I highly recommend checking that place out. Get some water and buy that thing you forgot to pack.
We spent a full seven days in the area, both camping and lodging. I was surprised to see how many campsites are so close to town there. Our first campsite was literally less than a 10-minute drive down the Colorado River at Kings Bottom Campground near Moonflower Canyon. This is a first-come, first-serve site that was a perfect place for our crew to hang on the first leg of our trip. This campsite is not a private area, but it's great for car camping or doing the RV thing. It's quite beautiful, and the bathroom was surprisingly clean. It is also very close to some cool hiking trails and ATV spots.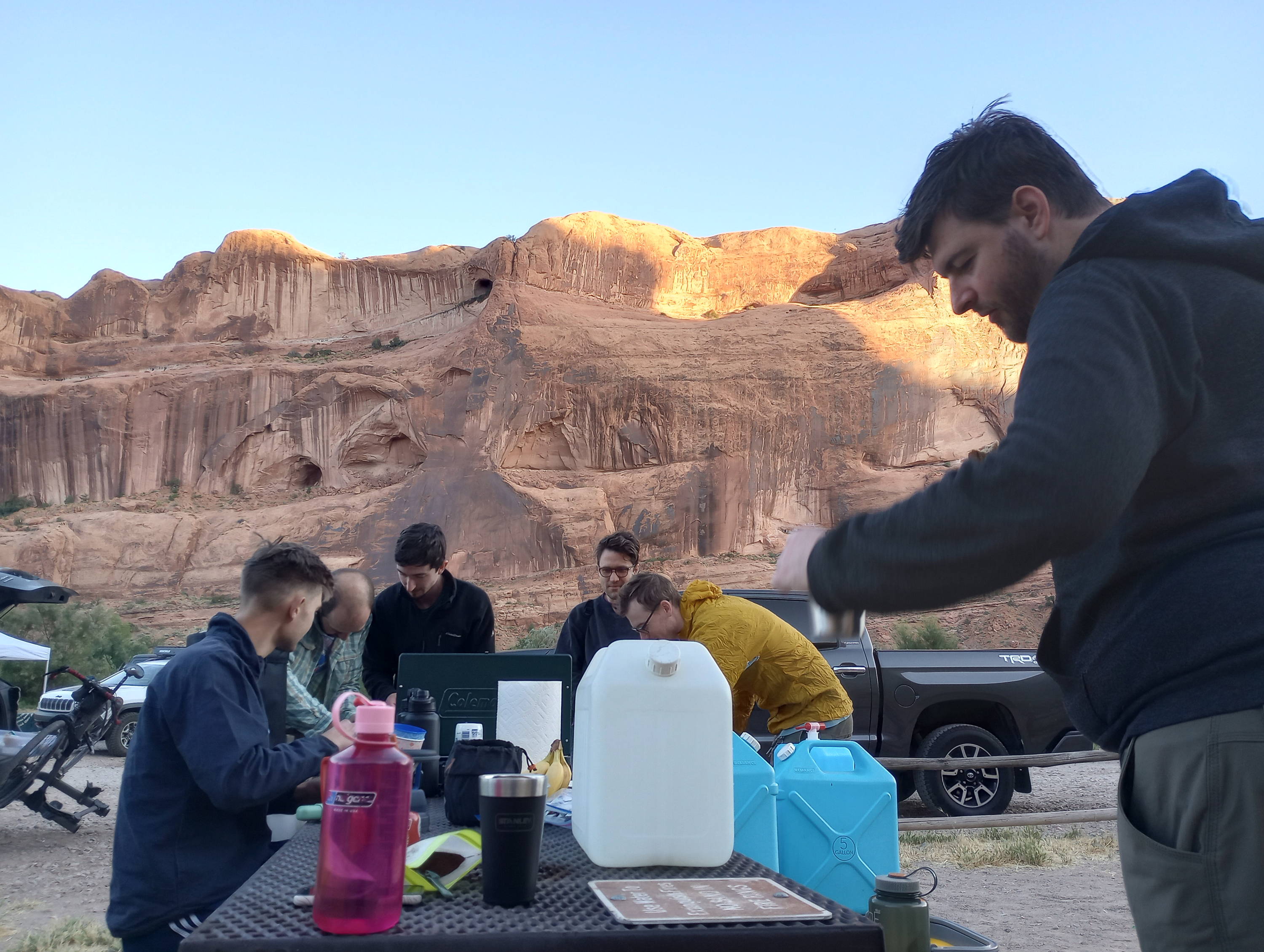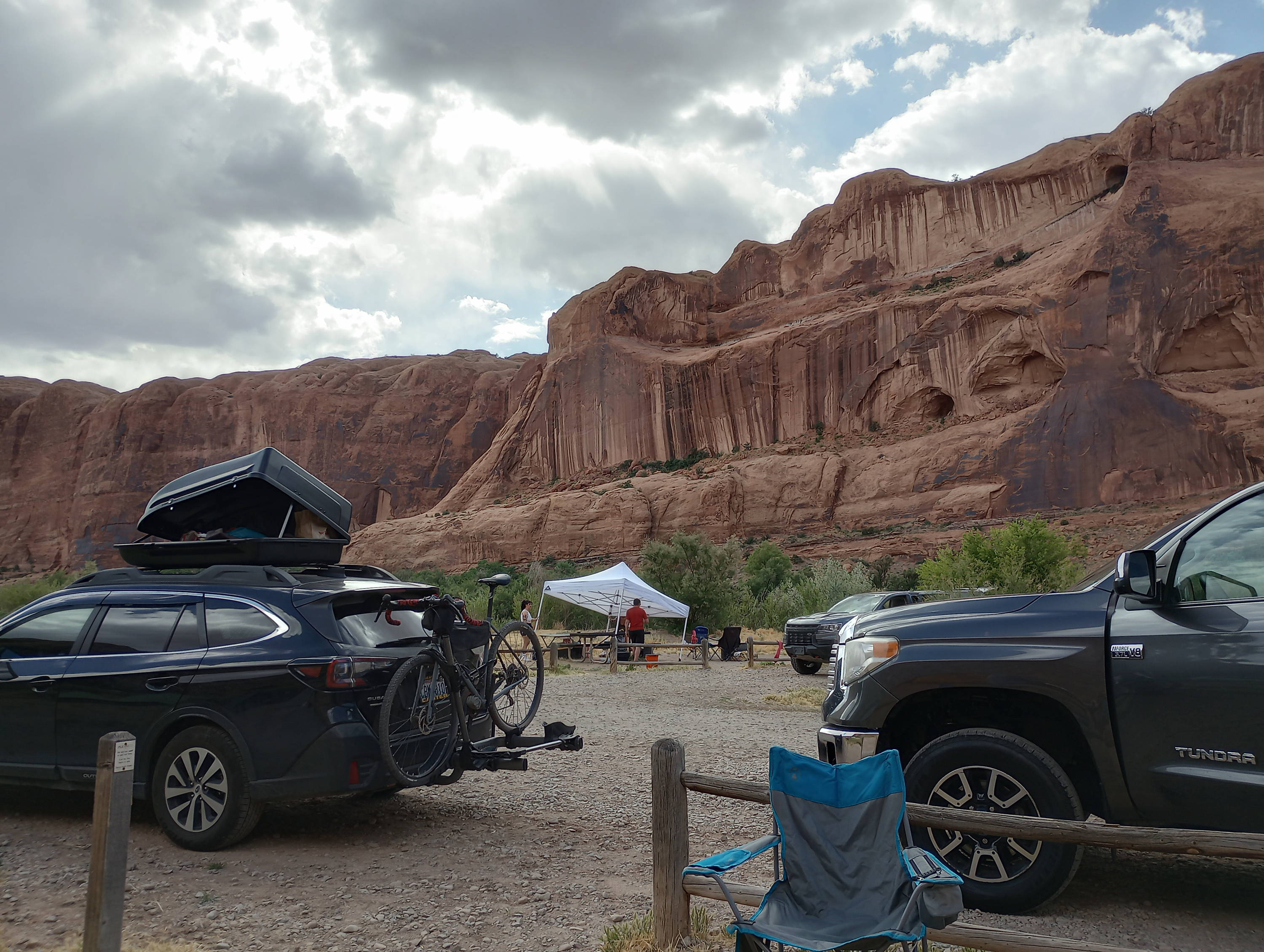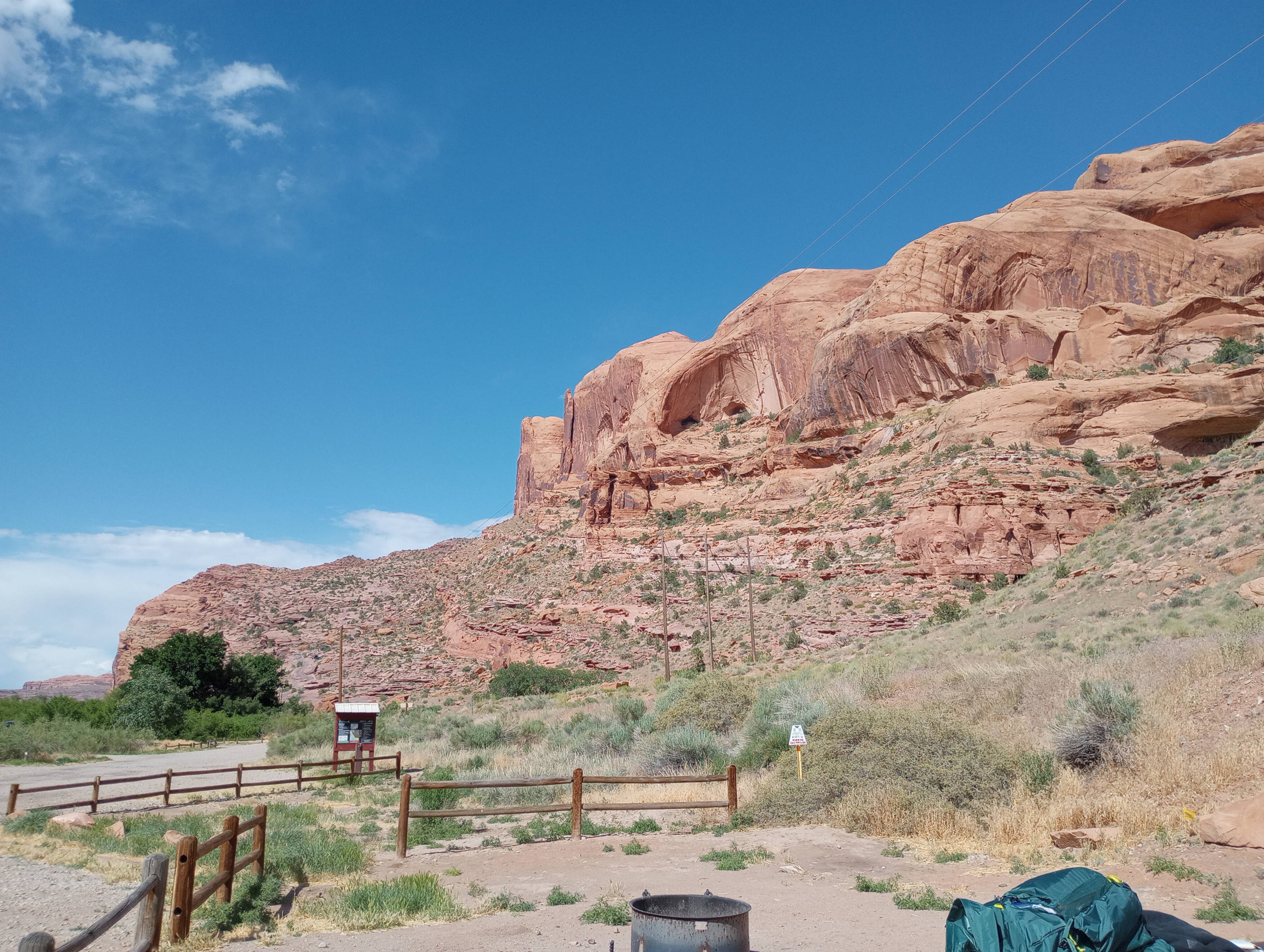 Riding The Whole Enchilada
The first big event of the trip was riding the famous Whole Enchilada. We've all seen videos of people riding this trail, and it's always on some publication's list of "top places to MTB," but would it live up to the hype? It was time to find out.
There are a few shops that rent mountain bikes in Moab. We went with Poison Spider and had a very good experience. They have an array of bikes to choose from and prices that properly reflect what you are renting. I can't speak for other shops in Moab, but I thought pricing was fair, and the customer service was surprisingly good. My bike did have a mechanical issue (the brake lever leaked fluid and lost all power) early in the ride, and the shop sent someone up the mountain with another bike to swap. The bike they brought wasn't priced on the same tier as my original rental, so they refunded me the difference as well (I used that money to tip the guy who drove an hour up the mountain to rescue us!). Not a perfect experience, but I really appreciated how promptly and professionally they handled the situation. The other two bikes we rented operated perfectly all day. I would feel perfectly confident using their rental service again.
We used Whole Enchilada Shuttle Company to drive us as far up the mountain as was passable. Another reason timing your trip is vital. We were able to ride 27 of the 34 miles possible due to the snow still melting at the mountain peak. There was a little mud we had to avoid when we first started, but otherwise, the trail conditions were perfect. If we had gone any earlier in the year, our ride would have been much shorter and muddier.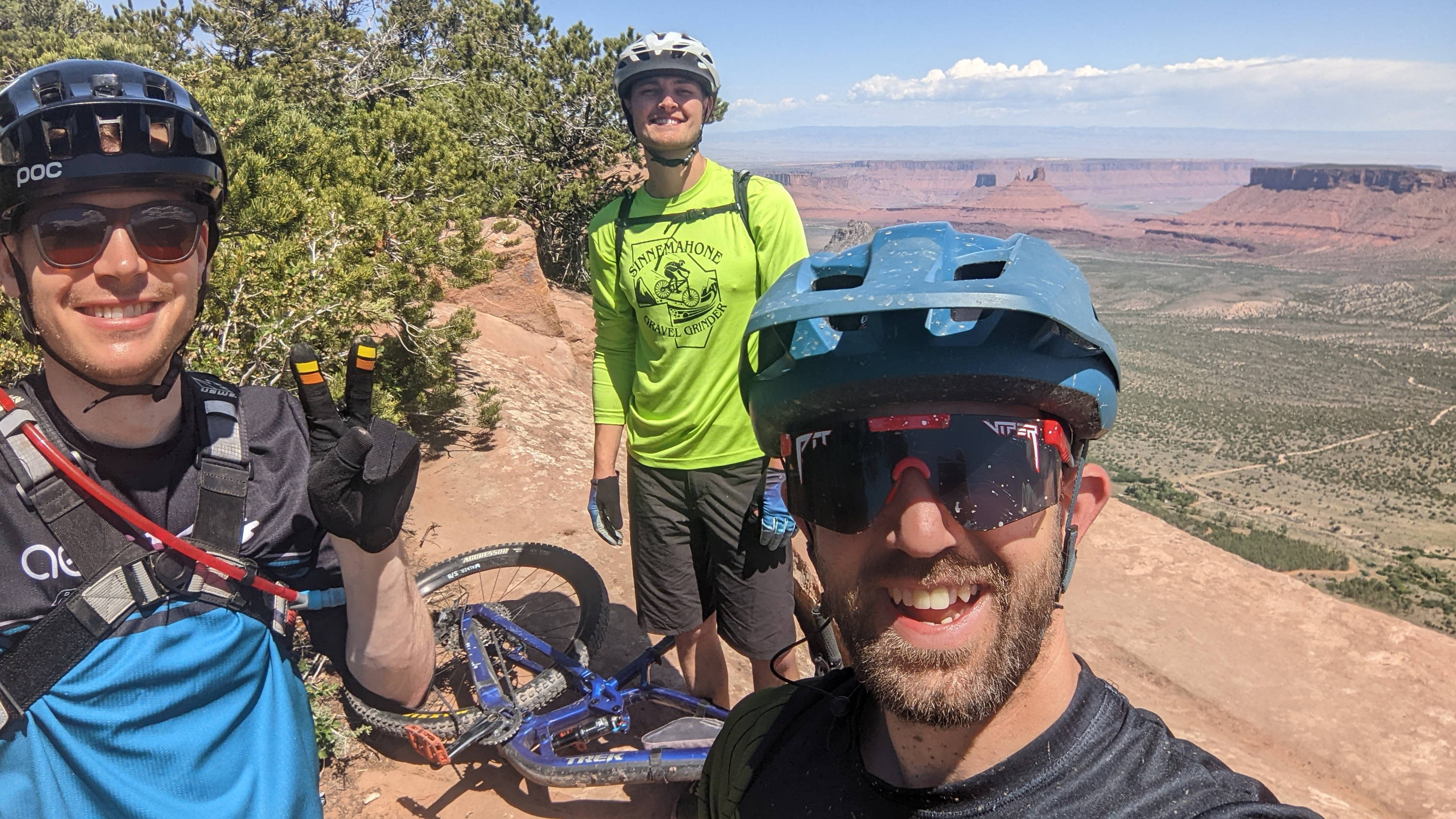 So the 3 of us picked up our bikes and got everything all dialed-in. We hopped into a shuttle van with a few others who wanted the early-bird and took the long, windy road up, up, and away.
Arriving at the Kokopelli intersection, we unloaded and set off on the adventure. From the moment we got out of the shuttle, it was clear this would be a very awesome experience. Starting out on a cliff 3,000 feet above the valley is usually a good indicator of a fun trail. LOL
Quick fact: The Whole Enchilada is actually a combination of a few trails with the most famous parts being UPS, LPS, and Porcupine Rim. We were lucky enough to take the shuttle a few miles above those trails and experience all this mountain had to offer.
It would be very difficult to overstate how awesome this ride was. It absolutely lives up to the hype and even exceeded my expectations. We traversed down the ridgeline for over 4 hours, exploring a natural playground thousands of feet in the air. It was surreal and brought me to the core reason I do this in the first place. I could completely submerse myself in the present and fully appreciate being alive in this moment. Time ceases to exist, and the only thing that matters is appreciating every turn, every rock, every lookout, and every pedal in its own unique and purposeful way. I was out in the woods with my friends, living my best life, just like we did 25 years ago. Also, we saw a really cool lizard.
A decently experienced rider could make it down in under 3 hours if they were pushing the pace, but why would anyone want to rush when the trail is this good? We took our time, rode as many features, took in as many vistas as possible, and genuinely enjoyed ourselves.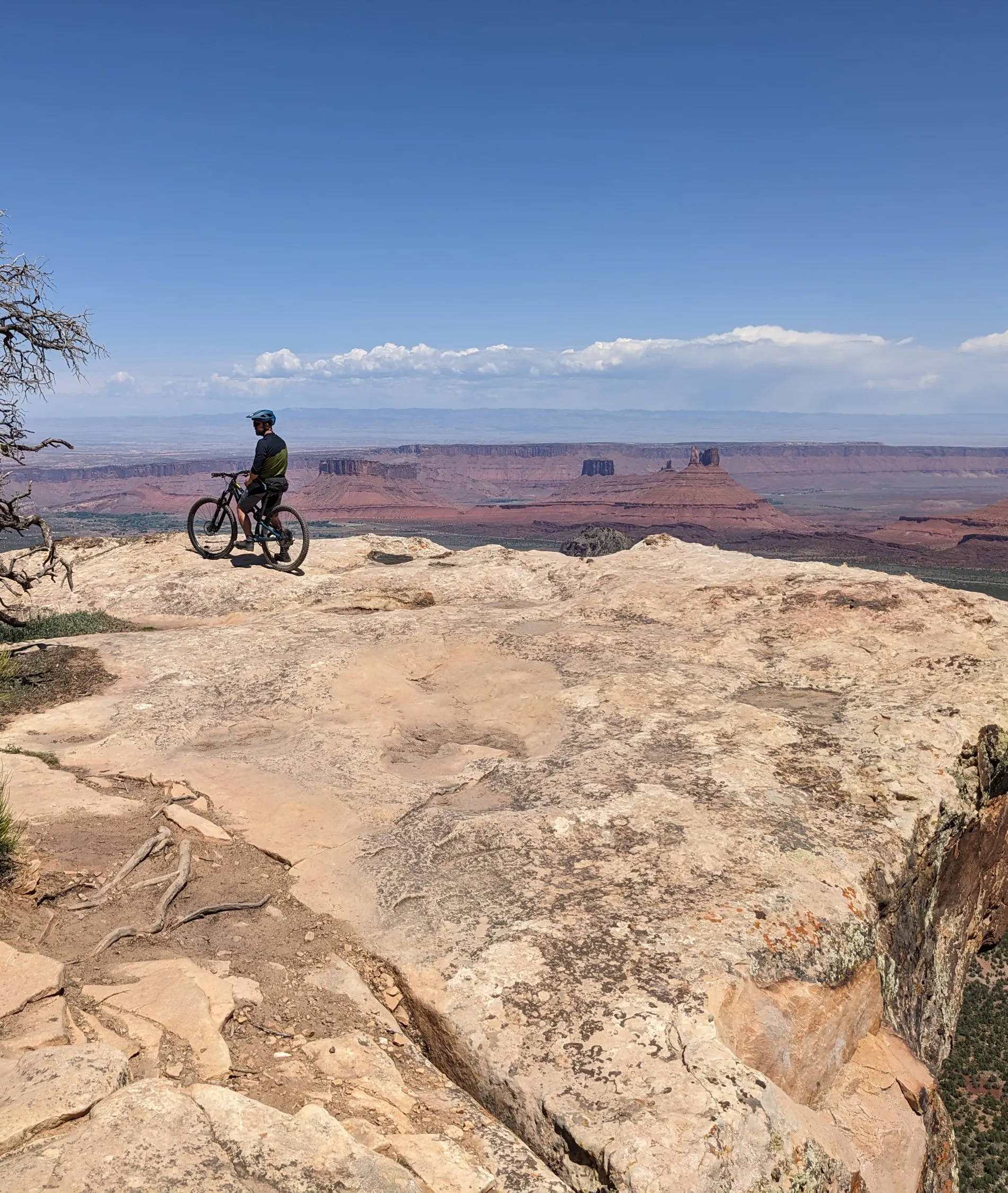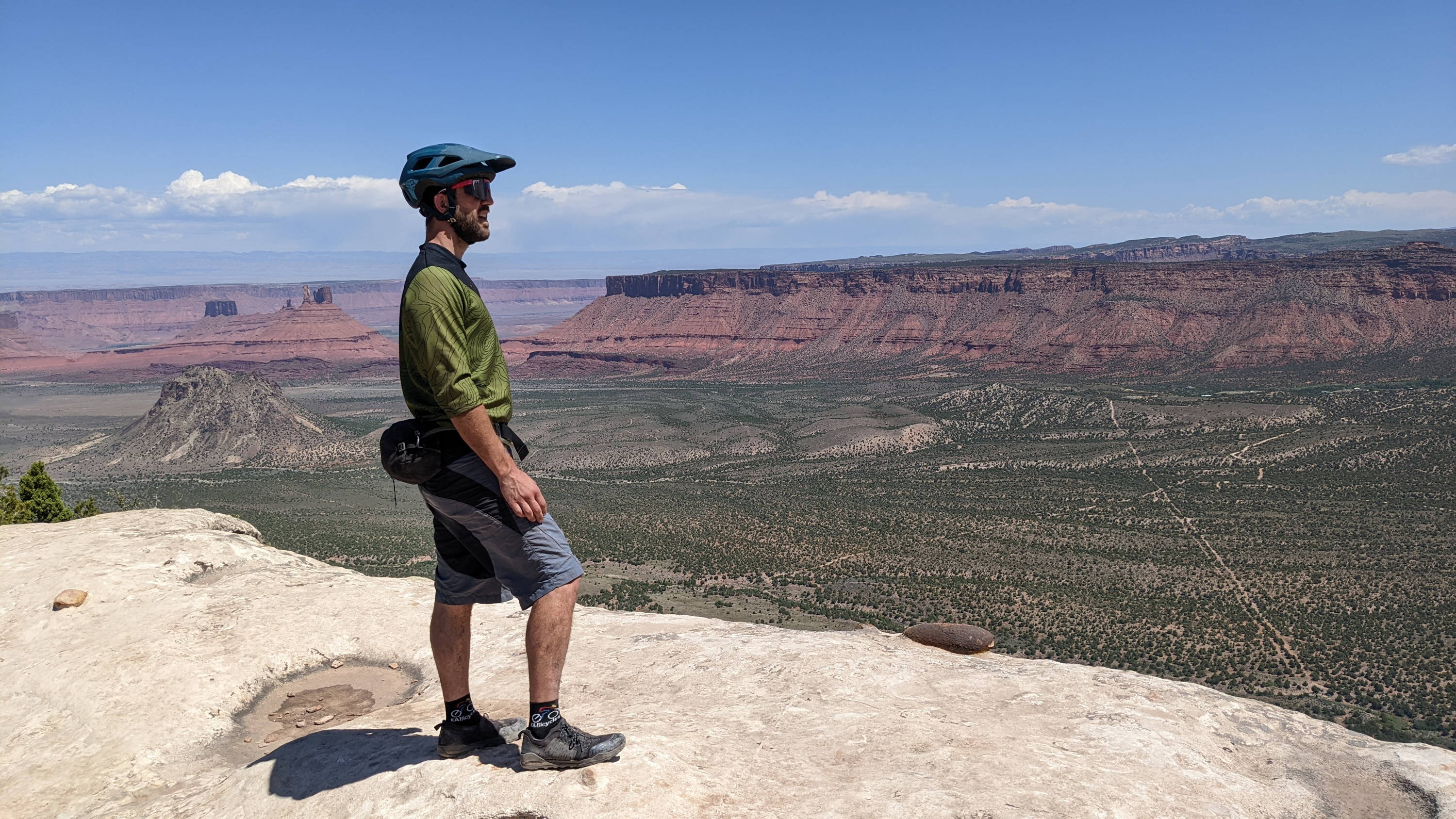 2nd Leg: Backpacking Canyonlands
Part 2 of the trip was a backpacking trip in Canyonlands National Park. Canyonlands is like Zion but without the crowds. Actually, it's even more expansive than Zion and still has unreal beauty. The rock formations may not look like they are from a different planet like Zion, but the beauty in the landscape is just as awe-inspiring. Canyonlands truly is a National Treasure.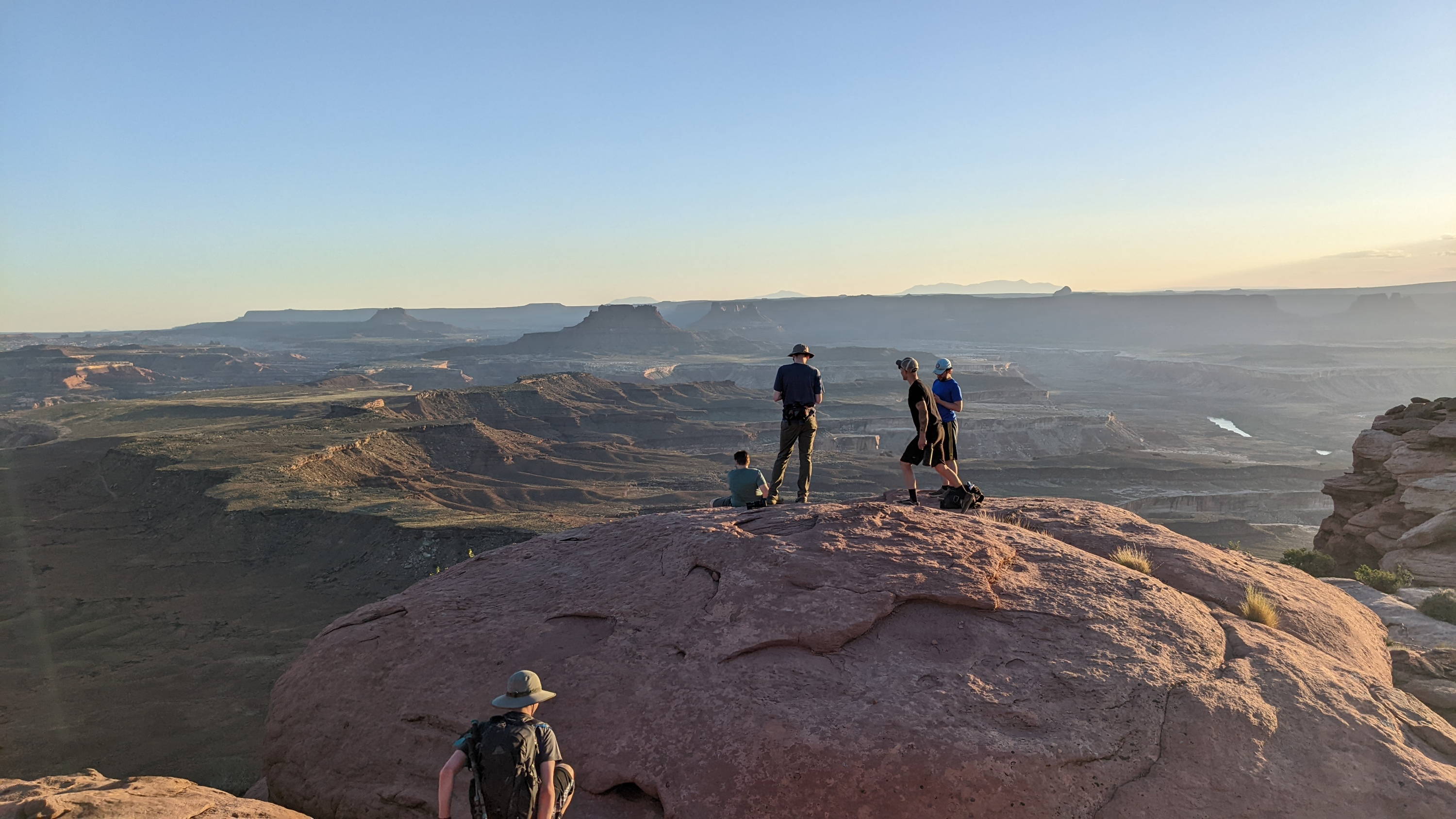 Pro Tip: There are only so many campsites accessible with a reasonable hike, so we reserved our campsite for this May adventure back in February. If you want to do some backpacking in Canyonlands, make sure to get your site reserved early!
It was a rugged 4.5 mile hike to our campsite, which may not seem like a lot, but it will feel like so much more if you aren't an experienced hiker. This hike wasn't a stroll in the park. The terrain is rugged, and the elevation is constantly changing. You are in the desert, so all that extra water you have to bring adds a good bit of weight to your pack, too. Consider yourself warned.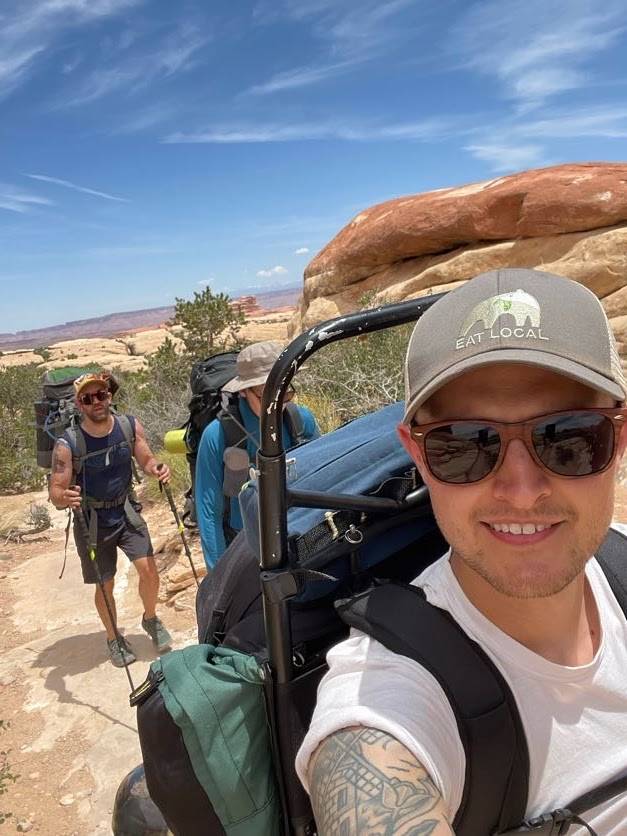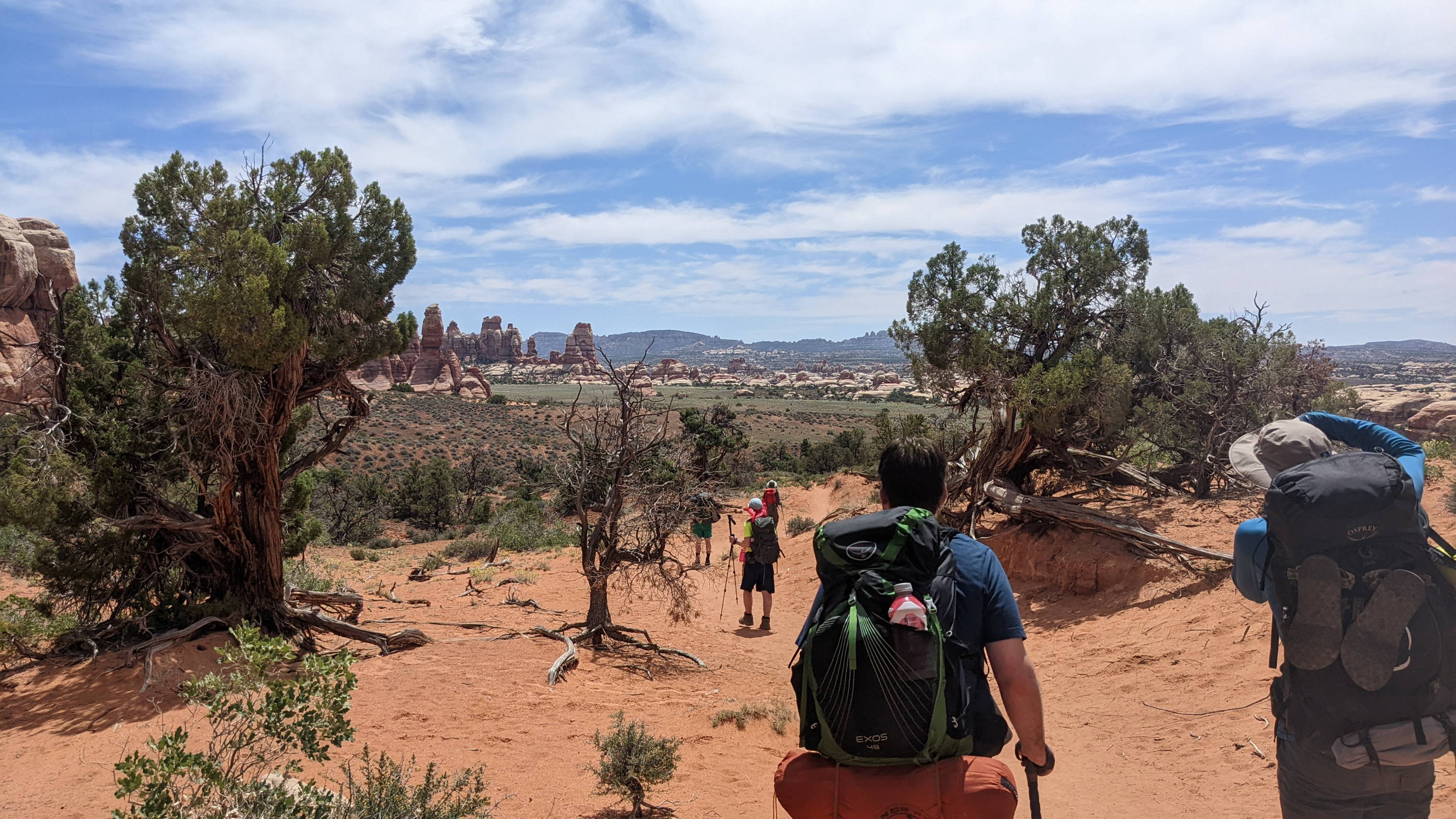 Once we set up camp we set out on another adventure to find water. Little did we realize that would turn into another 9 miles of hiking and bouldering through a canyon floor. We were tired but it was worth it when we came upon Druid Arch.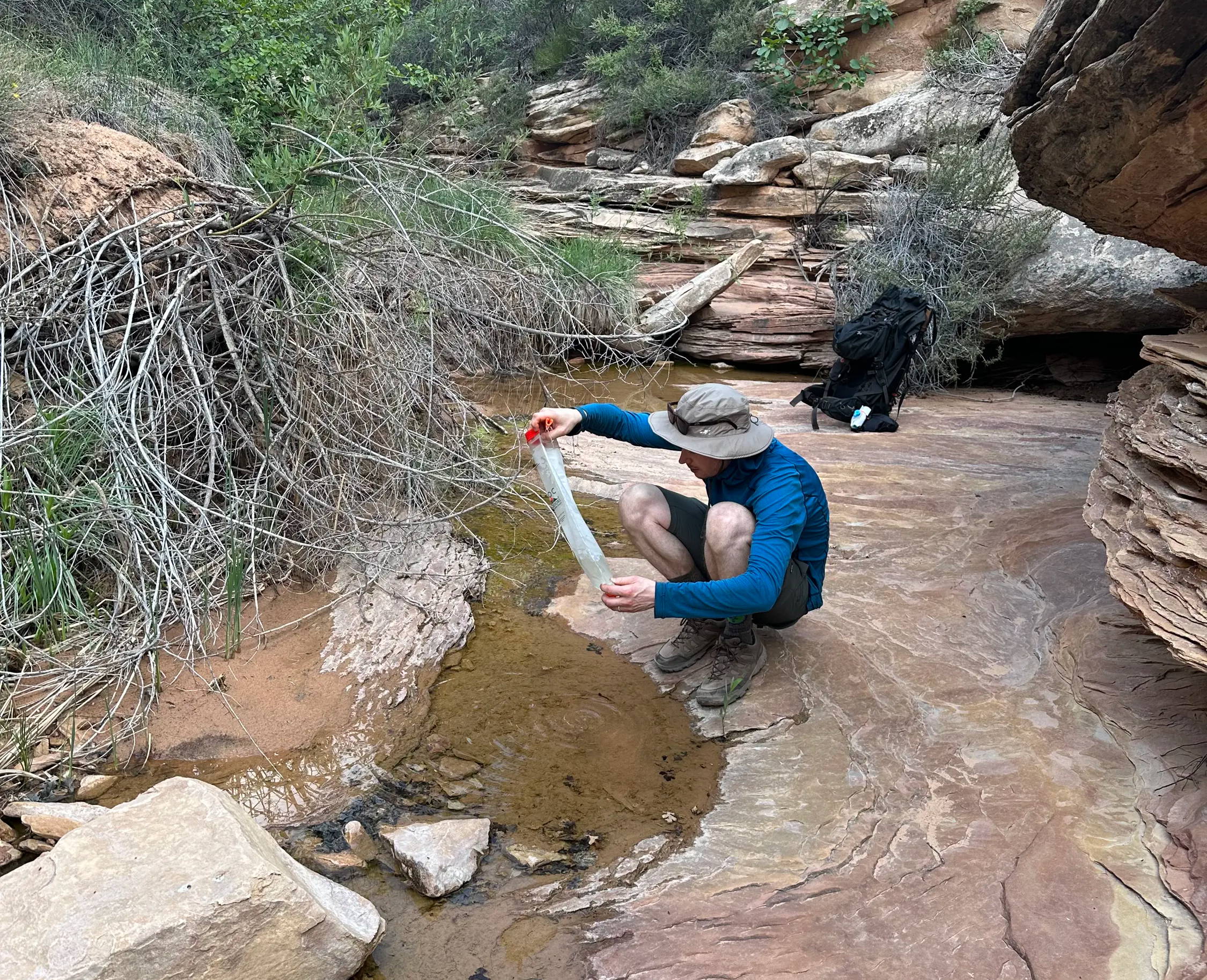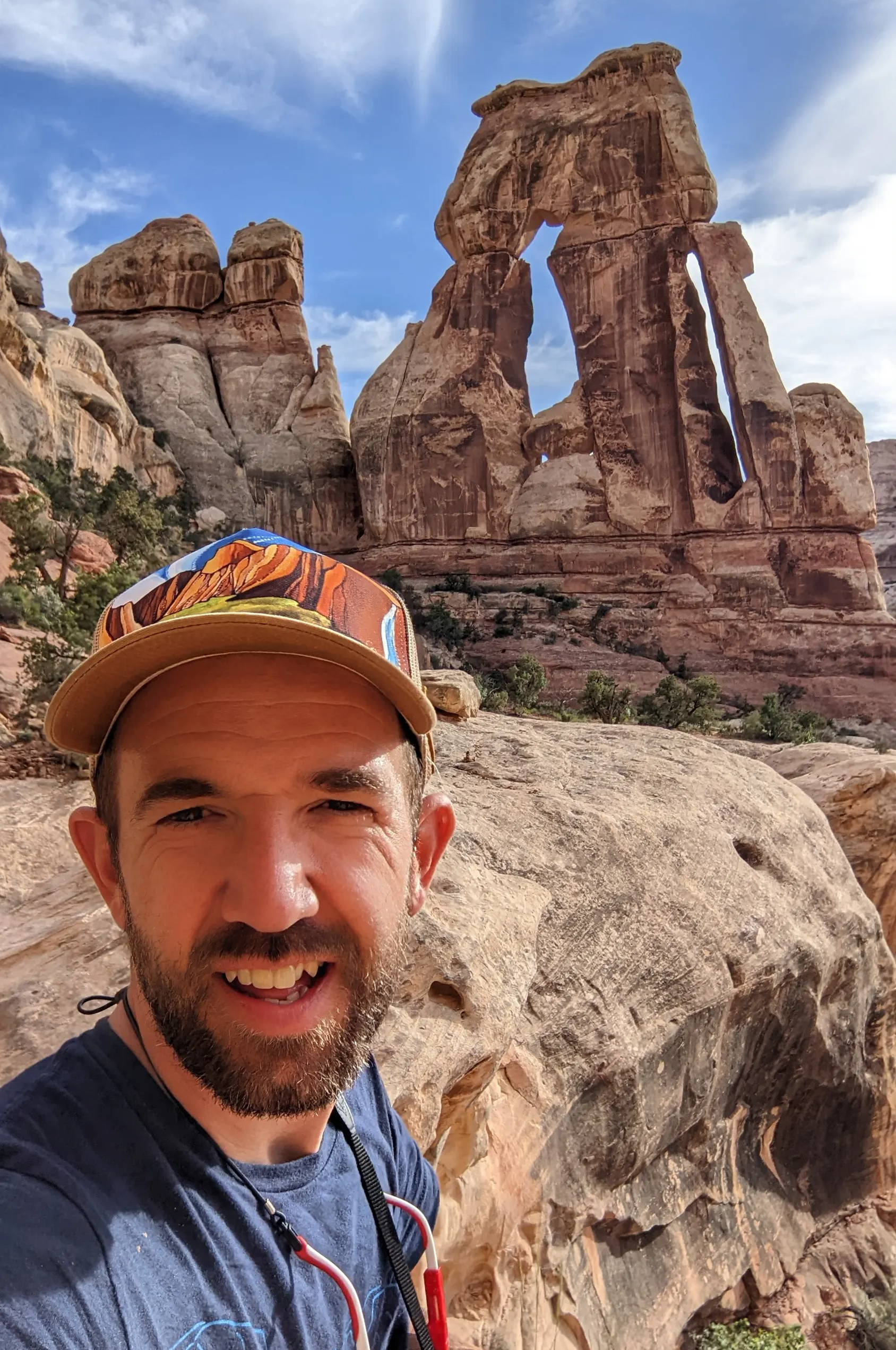 It was a looong day in the sun, but man, it was worth it!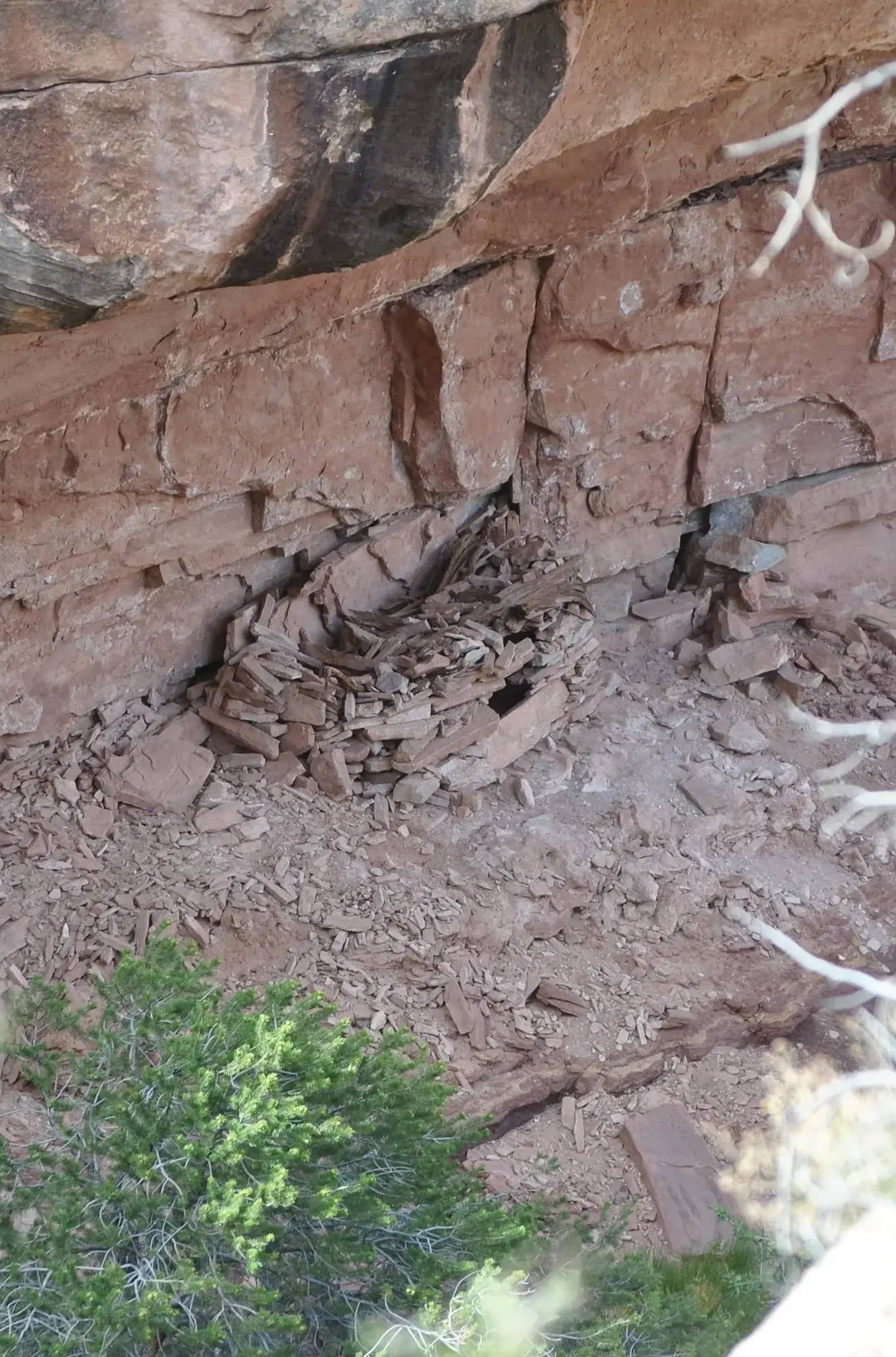 Ruins we came across on the water hike.
Druid Arch at the end of our hunt for water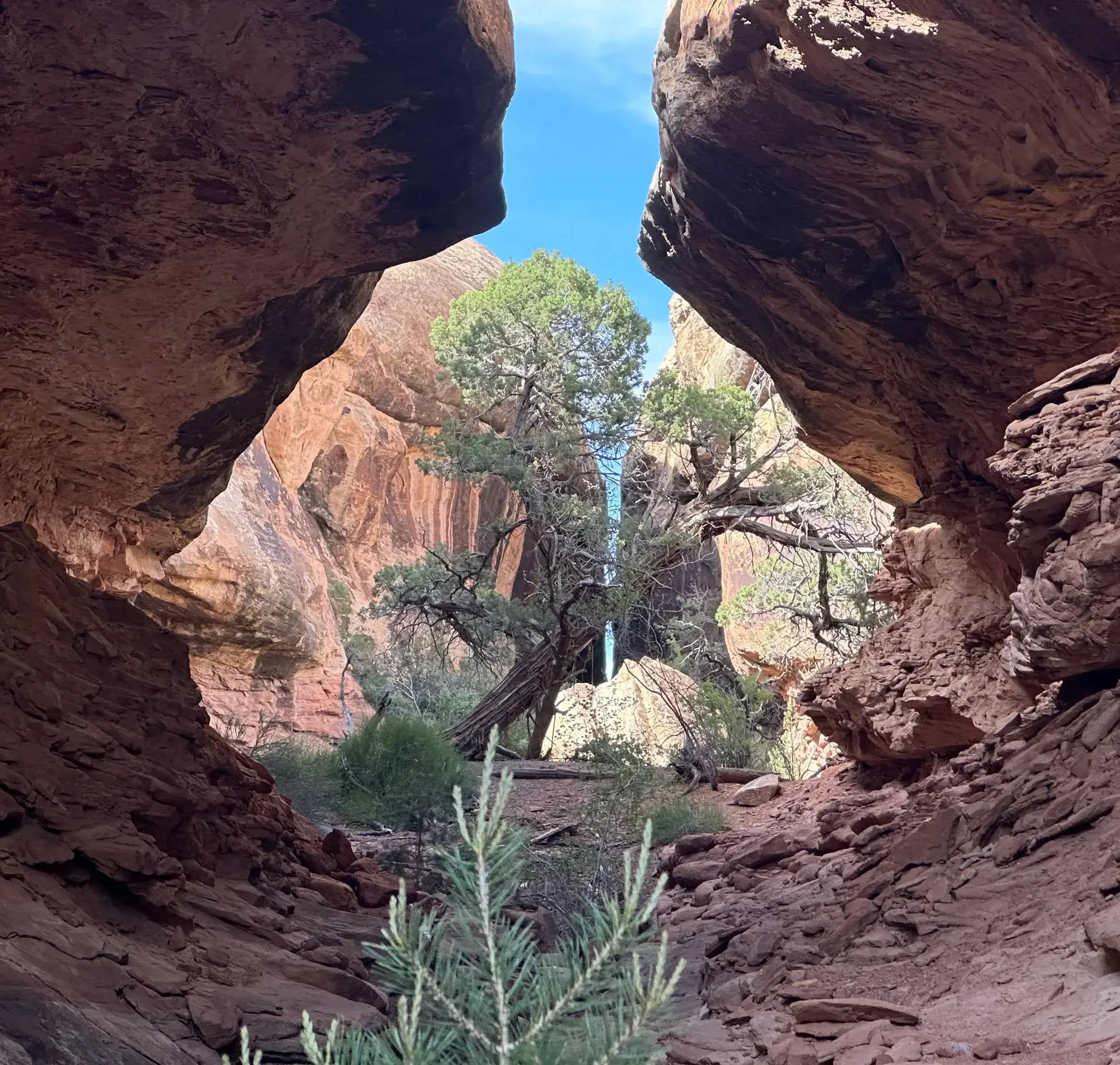 Around every bend was an unforgettable scene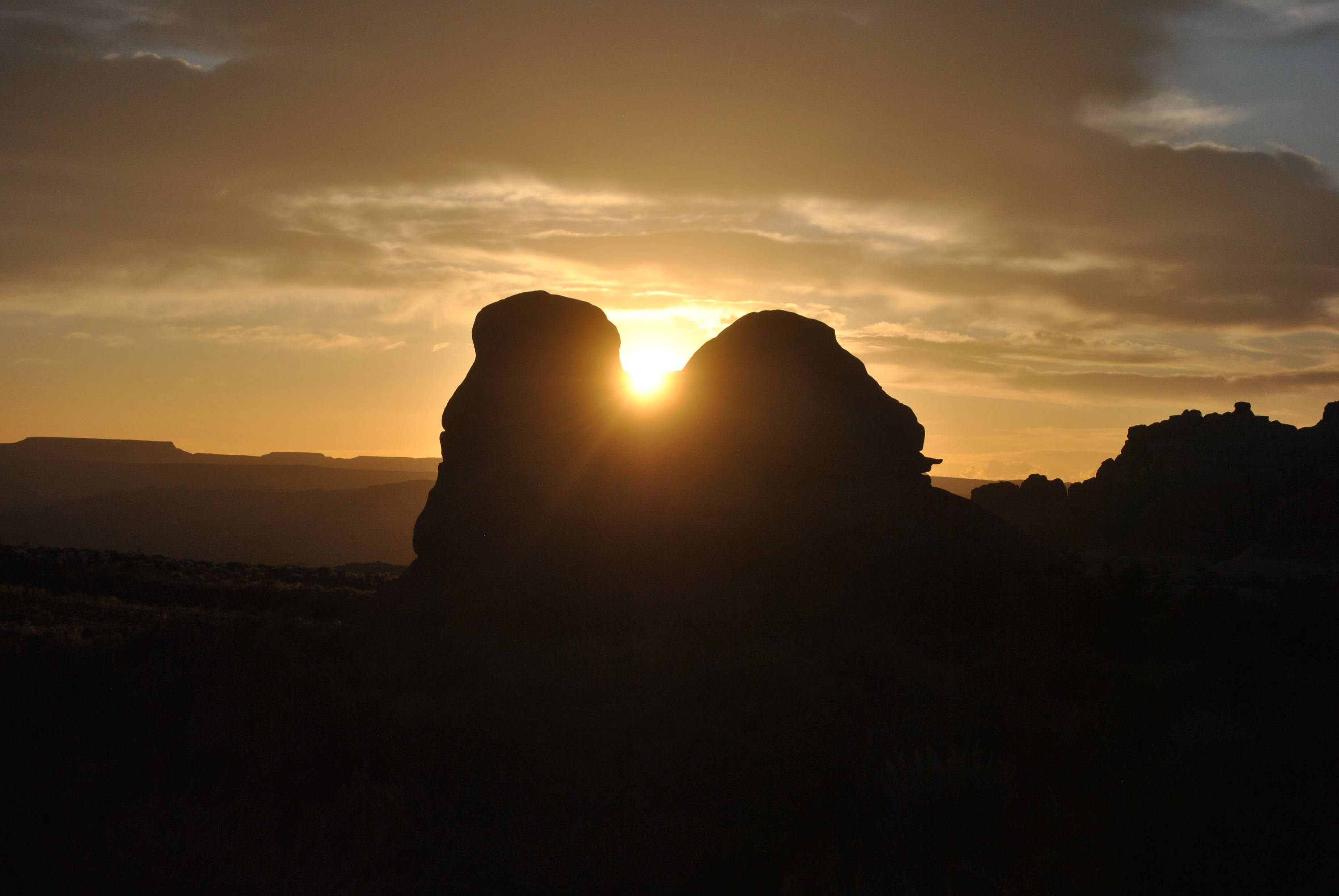 We got back to camp just in time to see the sunset.
We spent that evening watching a sunset that simply can't be recreated anywhere else. Another soul-touching moment I'll remember for the rest of my life.
Once the sun left us, it was time to set up for some nighttime photography. We were lucky enough to have a perfectly clear sky that night, and capturing the Milky Way was priority #1. So we set our alarms for 3am and attempted to get some rest before the big show.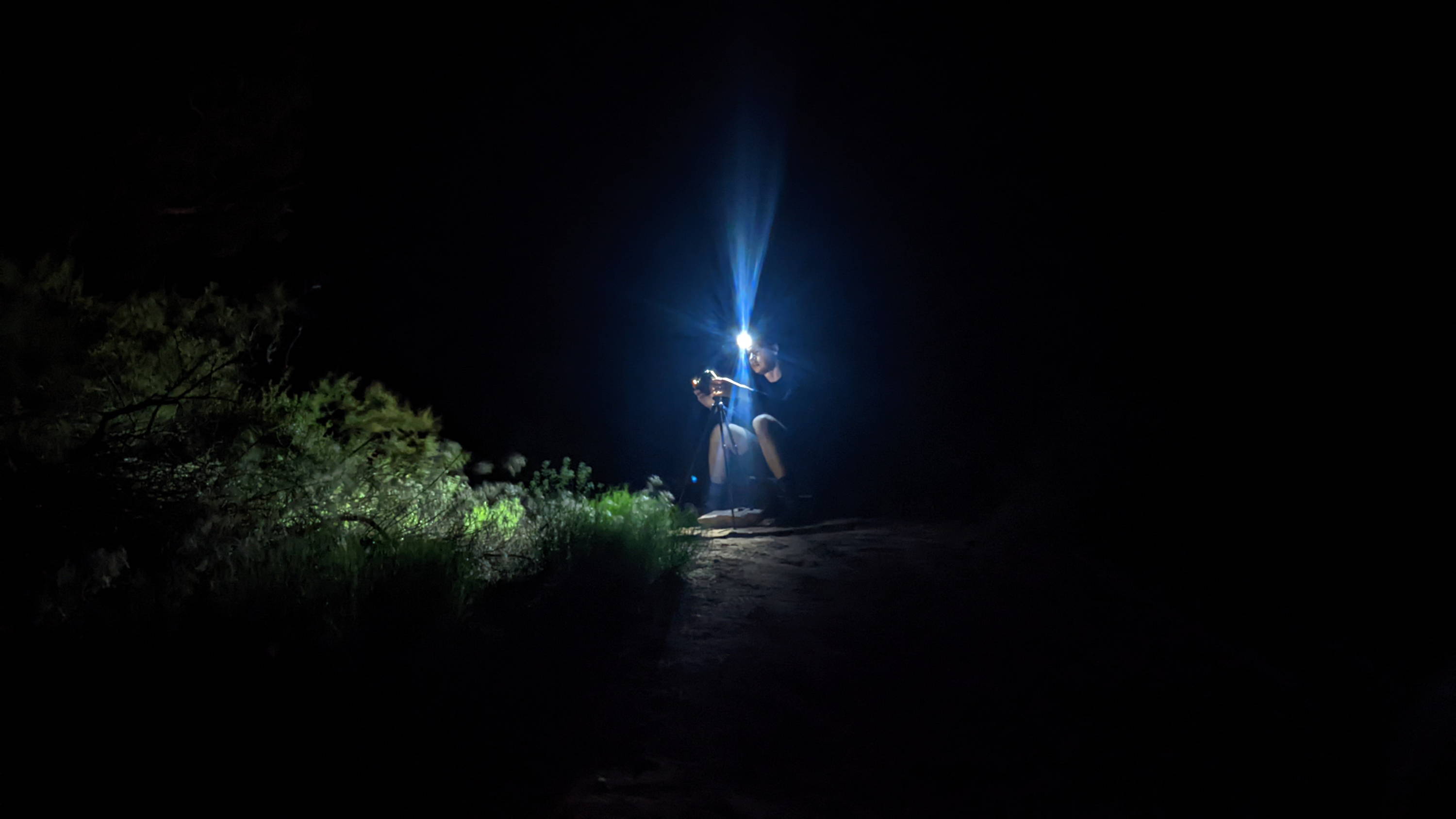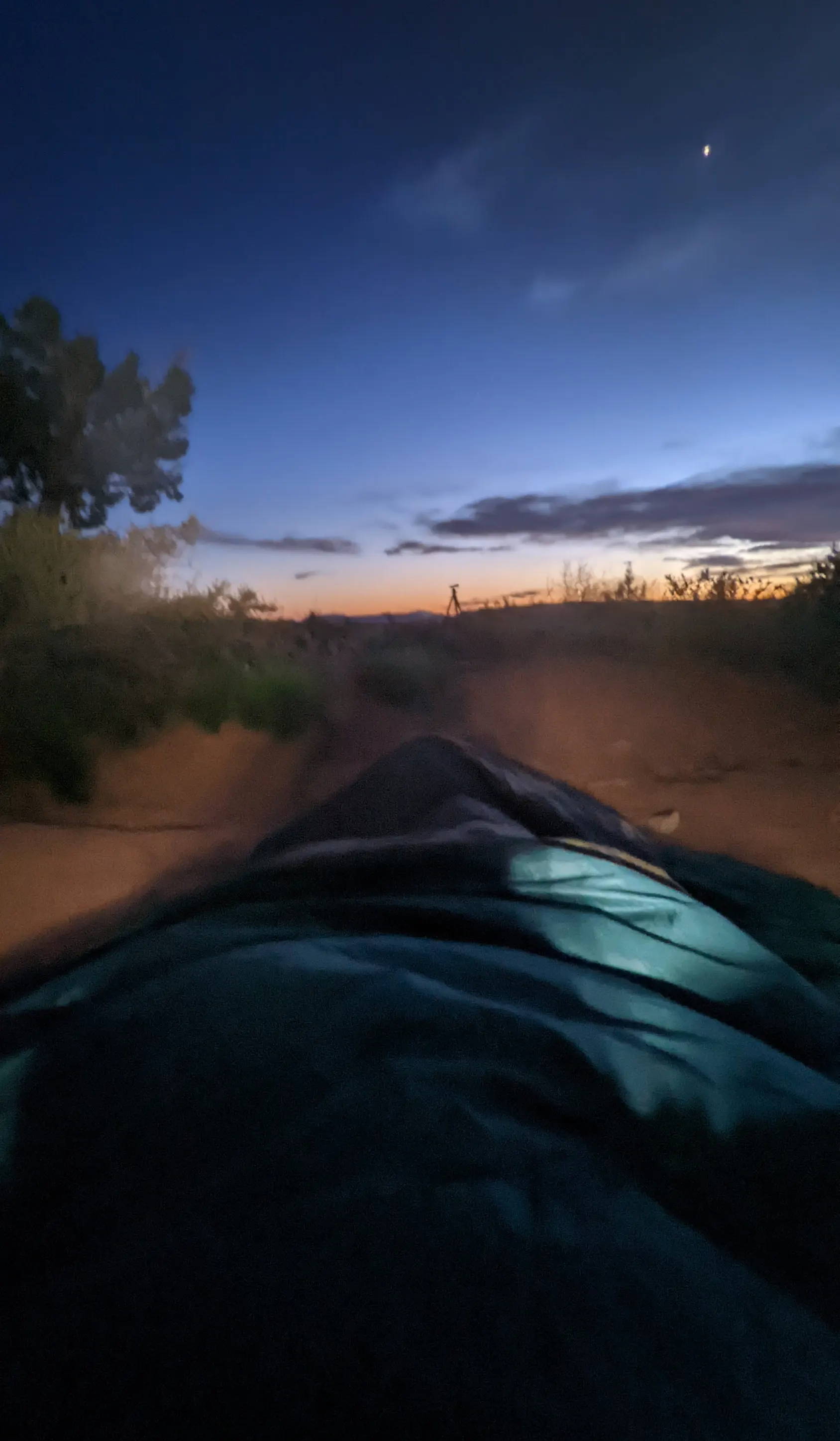 We fell asleep to the chorus of grasshoppers filling the void of otherwise perfect silence that only happens when you are miles and miles away from civilization. At 3am that song was interrupted by our alarms, and we awoke to the most impressive sight we will see all week. A perfectly black night gave way to the entirety of the Milky Way. As if being in the heart of the Utah desert didn't do enough to replace our egos with humility, the vastness of the Milky Way Galaxy made sure to completely square us with the reality of our tiny, tiny, tiny place in the universe. It was the apex of humility delivered in the most grandiose way possible. The universe in our eye and the physical definition of vastness between our bodies and the stars.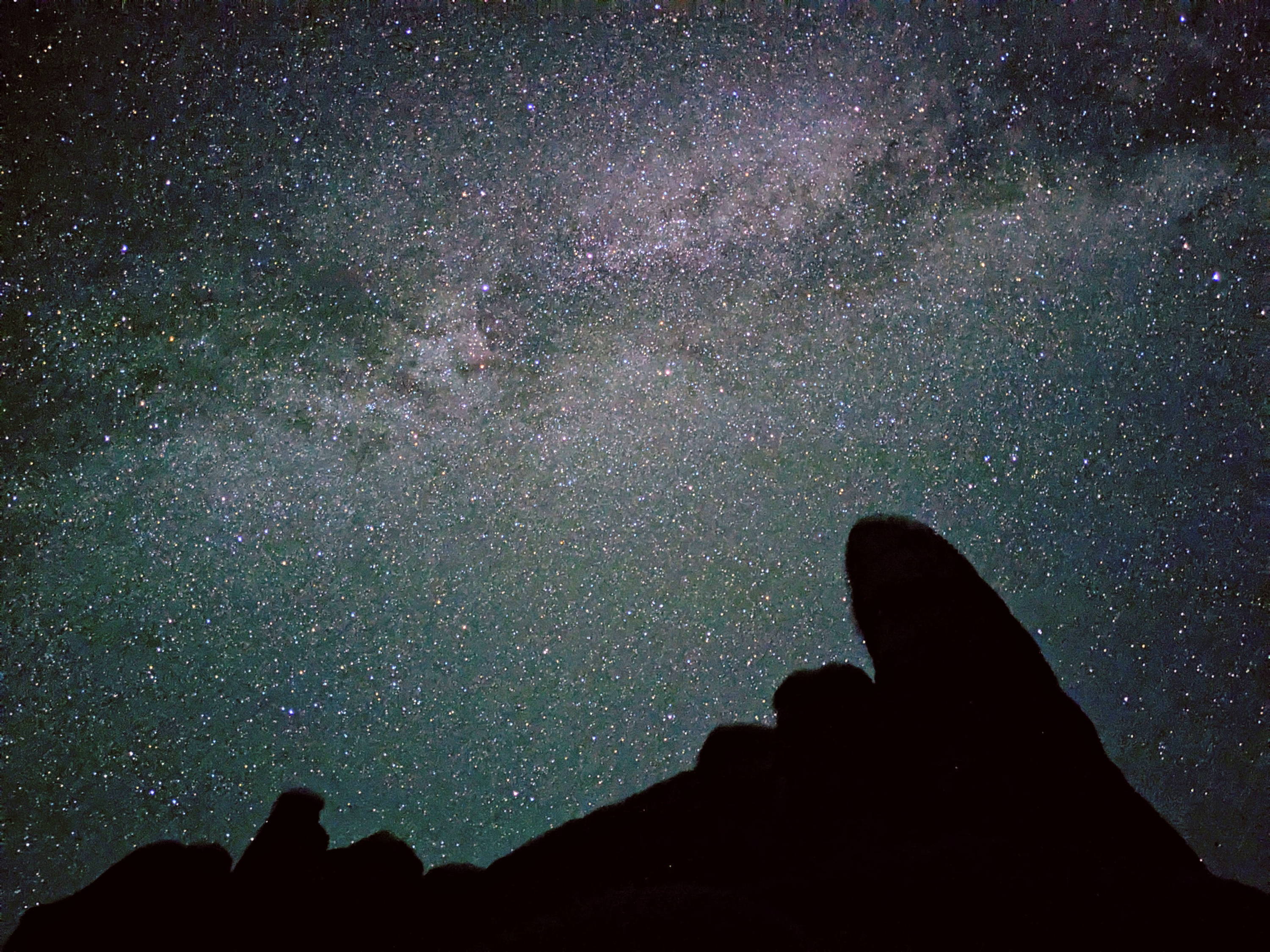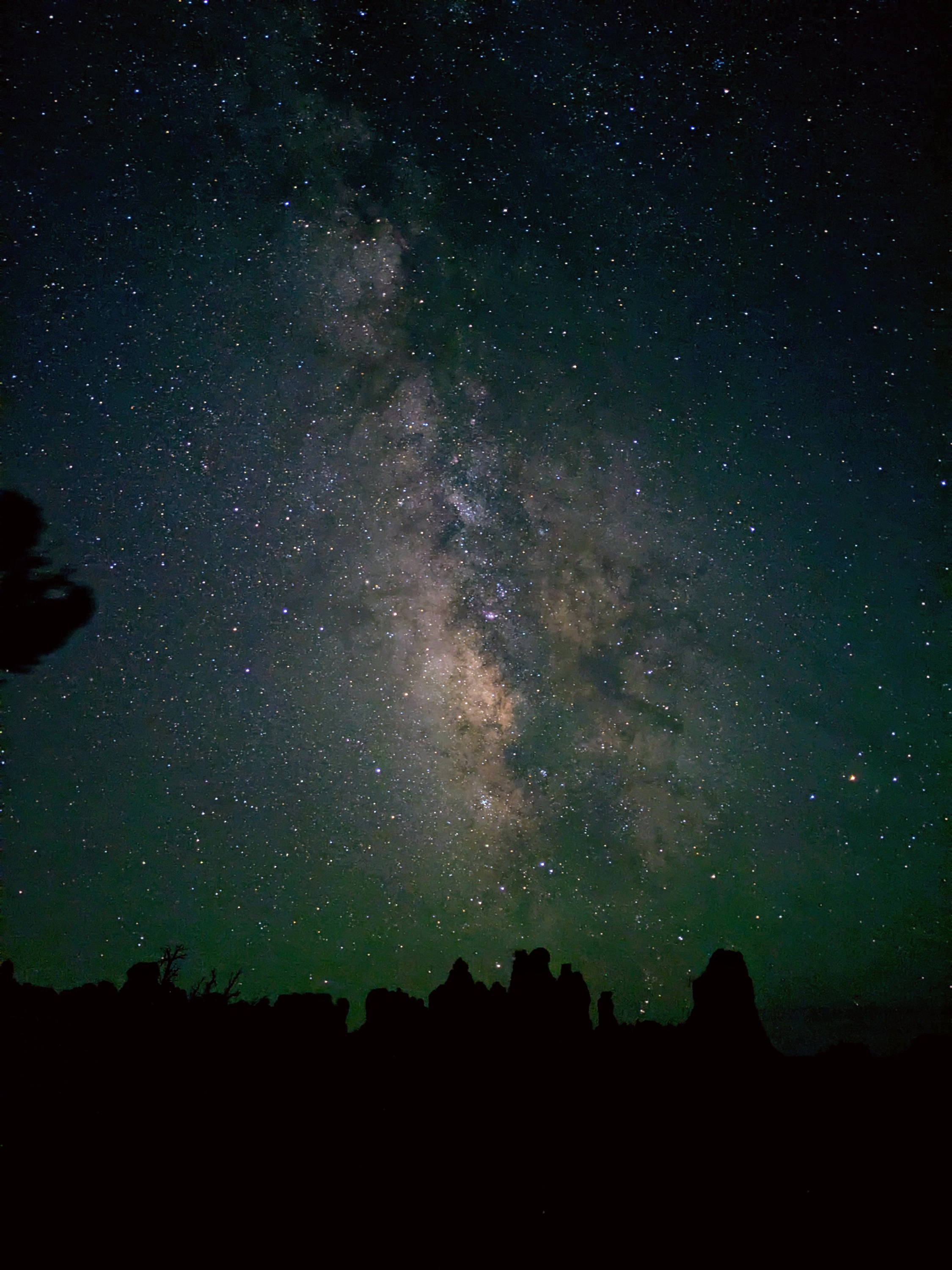 Needless to say, the rest of our trip was filled with conversations on philosophy and the meaning of life. We could all use a night or two under the stars once in a while. It would probably make the world a better place if more of us did.
3rd Leg: Rest and Wild Horse Canyon

After spending the last two days on foot, we checked into an Airbnb just outside Moab for some much needed sleep in a real bed. Rentals are a little on the pricey side in Moab, but it was a very nicely equipped unit with a hot tub. Nobody complained about the cost once we checked in. Pizza was ordered, and the hot tub was bubbling. It was a good night. After a deep sleep in a real bed, it was off for our last adventure in Wild Horse Canyon.

Wild Horse Canyon is open Bureau Of Land Management (BLM) land. It's a good drive west of Moab. It was a bit out of the way but totally worth it. This area transports you back in time. It's raw, rugged, and dry. We were expecting some sort of prehistoric animal to peak out from a rock at any moment. I bet Vultures do well out here. There are open, dispersed campsites all over Wild Horse Canyon, and it seemed like a very popular place for boondocking in an RV. This place is so big that even in peak tourist season, we were able to easily find a private site and enjoyed the luxury of car camping.

Impressive petroglyphs dating back thousands of years are found in this area, and we had the pleasure of meeting a paleontologist while at one of the sites who offered us a quick history lesson about the place. Here's a quick summary: The petroglyphs are really, really, really old. We don't know exactly how old, but it's at least a few thousand years. The site was probably a place where they performed rituals like rain dances. The landscape was very different then. The paintings are pretty high up the wall which indicates that the floor of this little canyon has eroded substantially since those murals were created. It was yet another reminder to put our own lives in perspective.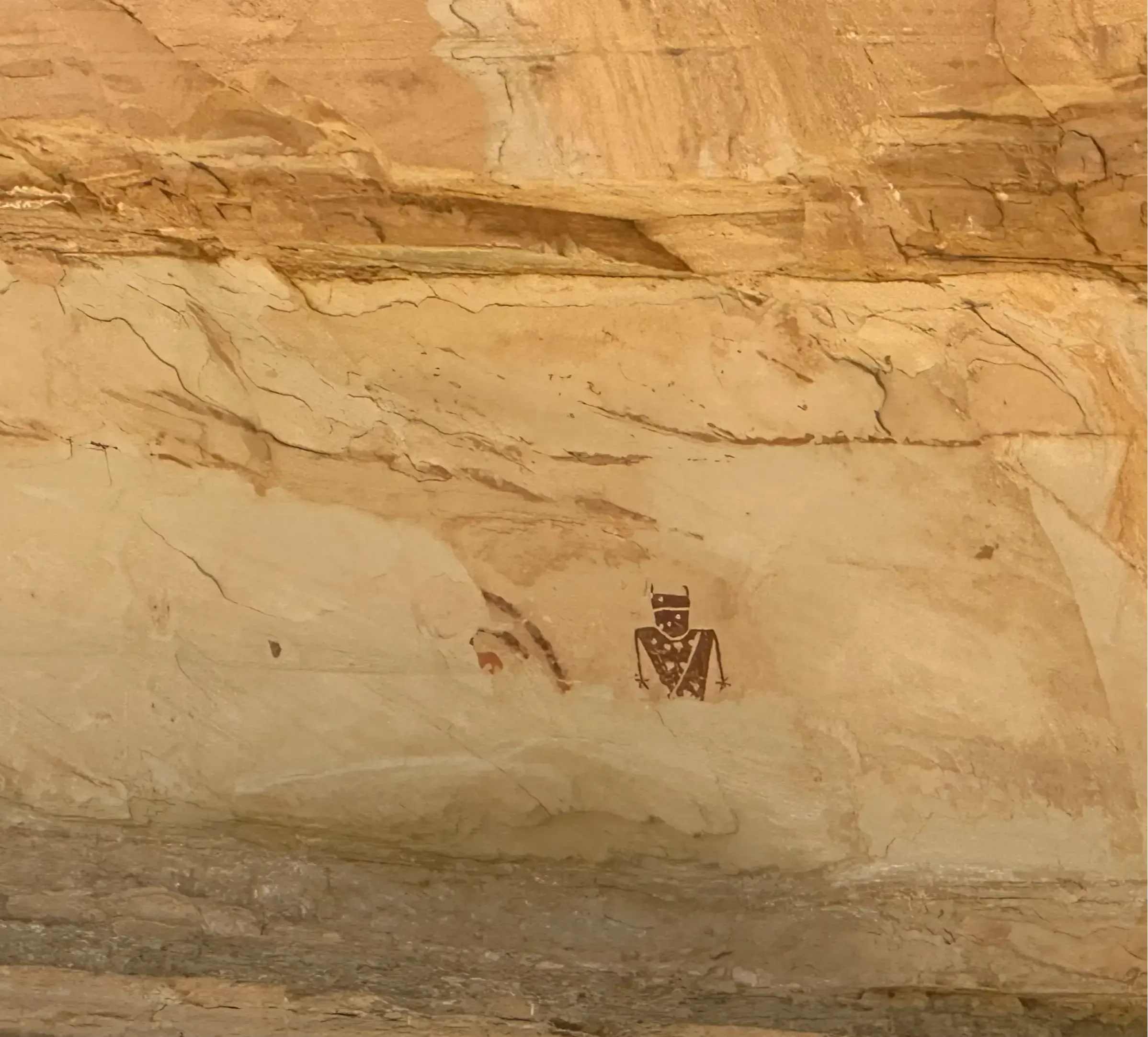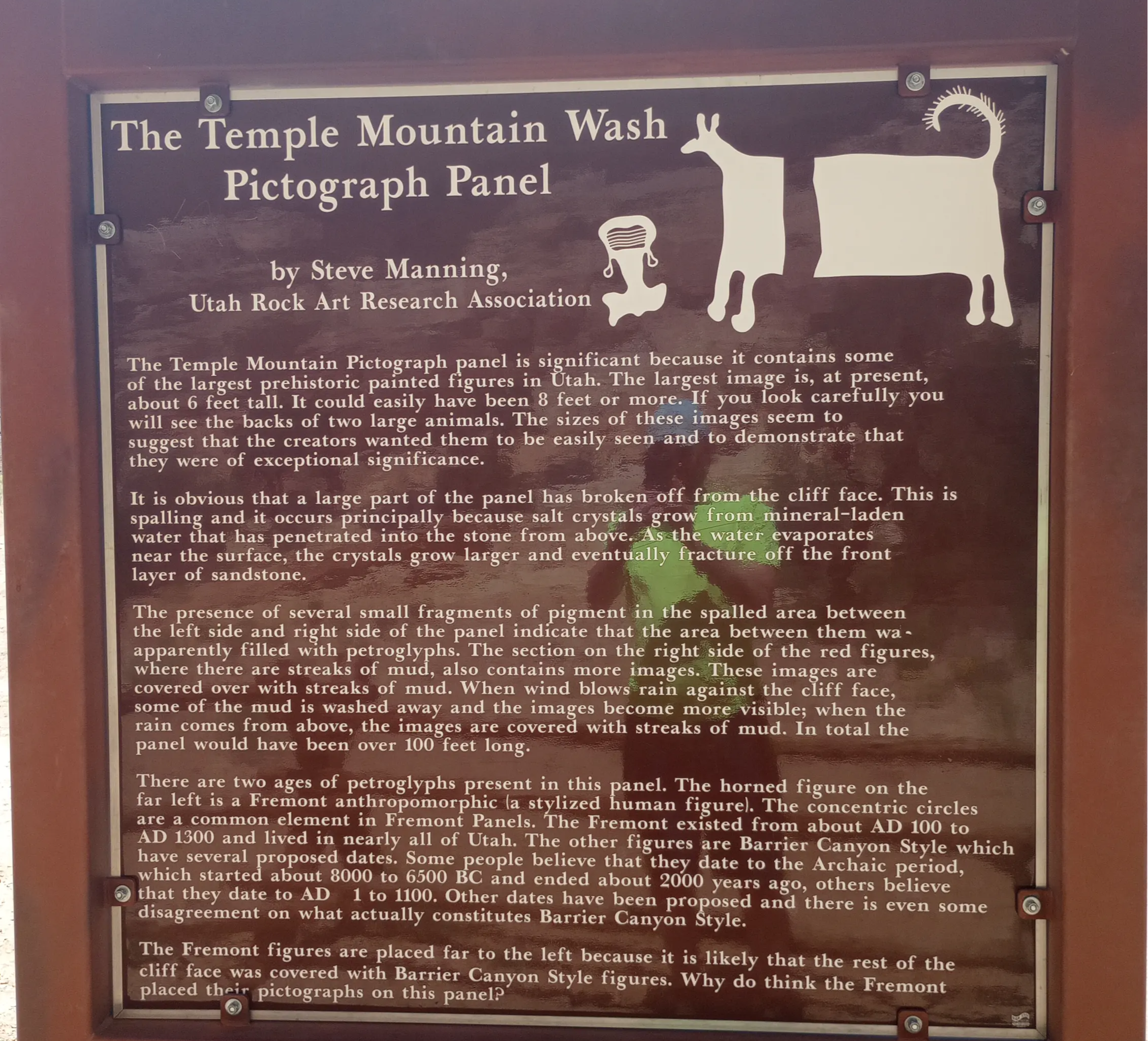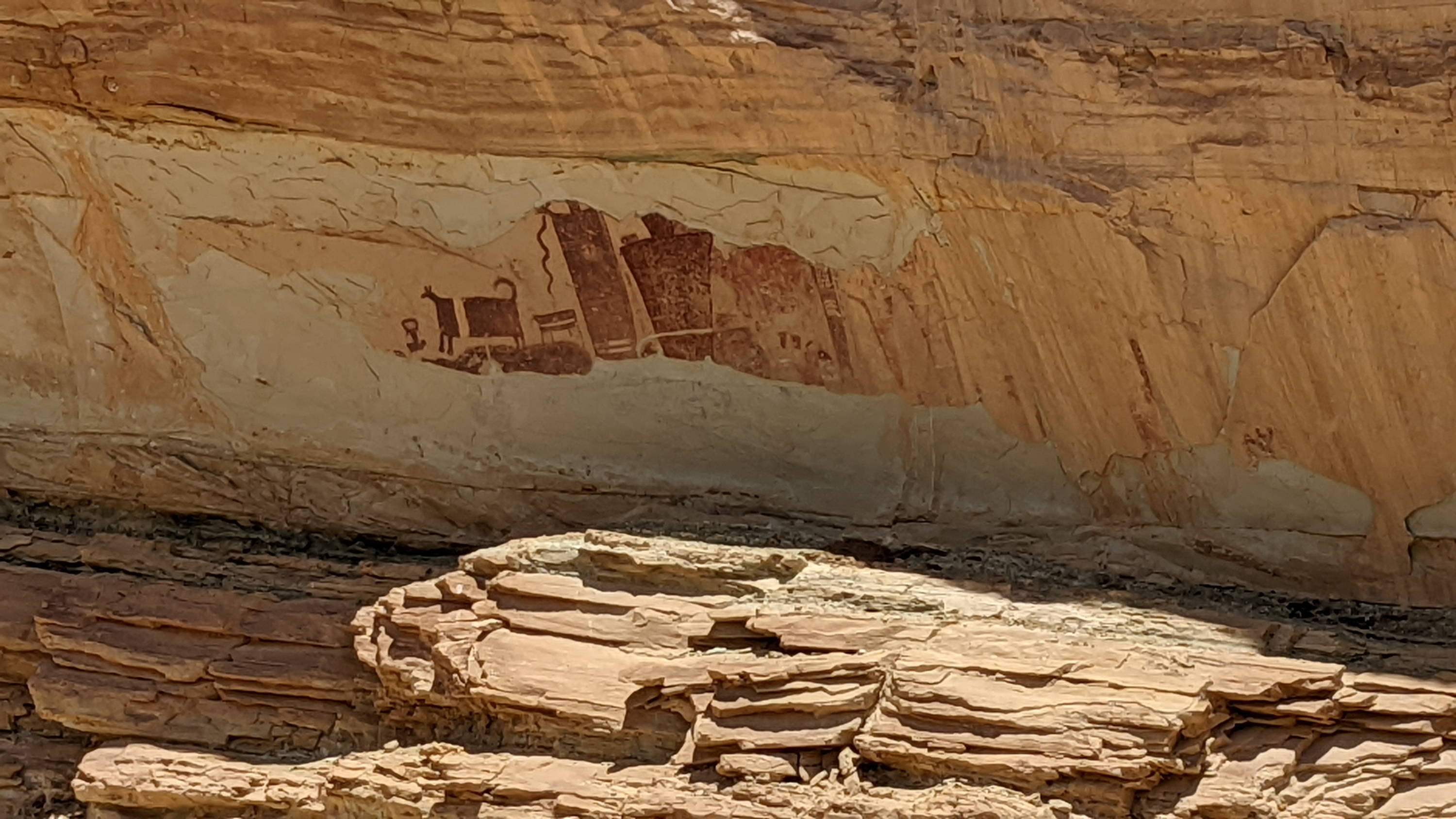 Gravel Riding and Hiking in Wild Horse Canyon

If gravel is your thing, then Wild Horse Canyon is your place. If hiking and rock formations are your thing, then Wild Horse Canyon is also your place. There are so many miles of dirt and gravel roads branching out into the forever landscape where trails take you further and further into slot canyons and narrows. As Dave said to me, "this is a place where you can just go out and explore forever". It was vista after vista after vista. Long climbs led to long downhills where you could gaze out over the landscape. Sometimes, those downhills got a little bumpy, and the challenge of keeping your bike steady at 20+mph reminded you to watch the road. We mostly kept the rubber side down and enjoyed another beautiful adventure in the desert.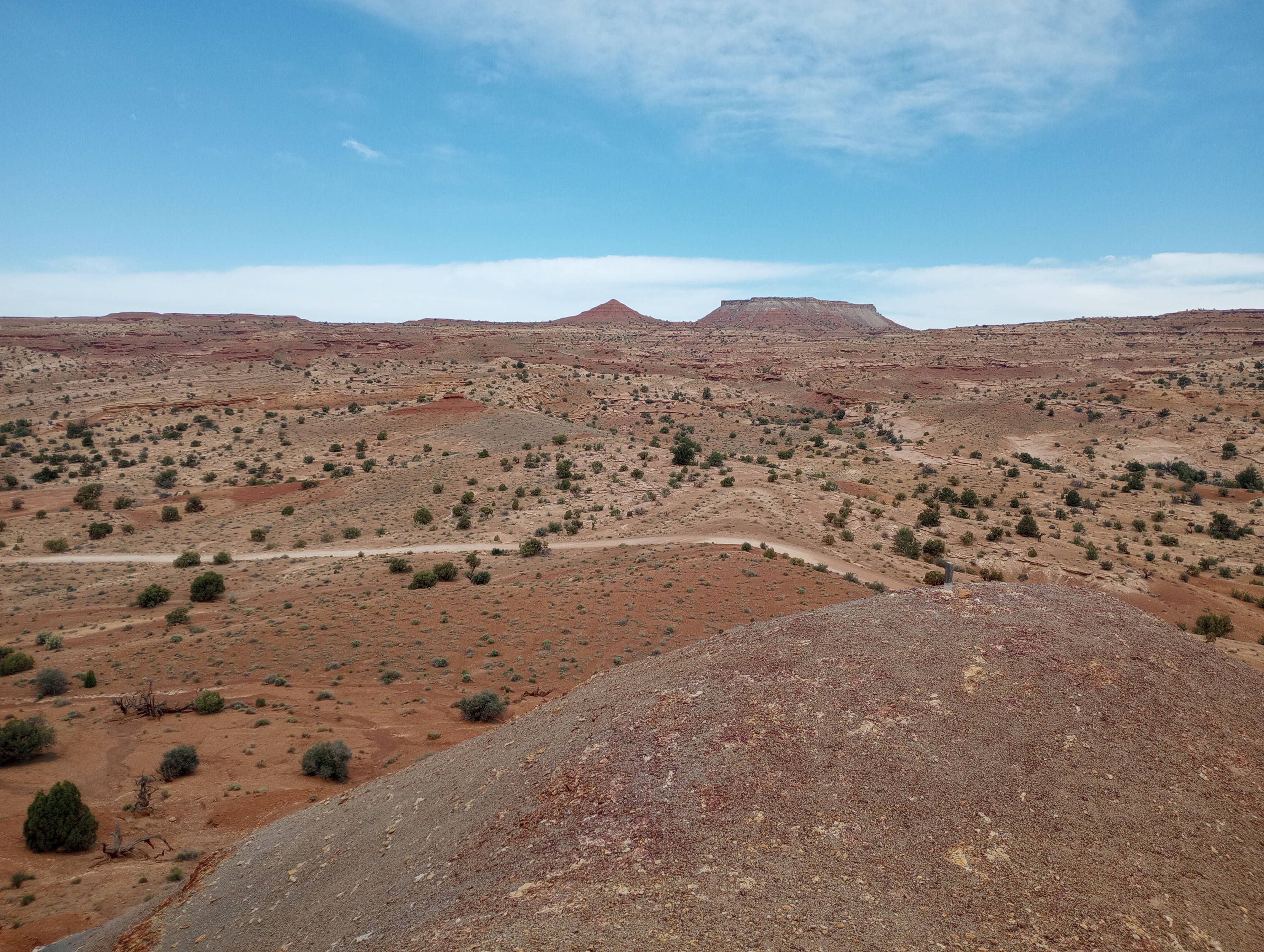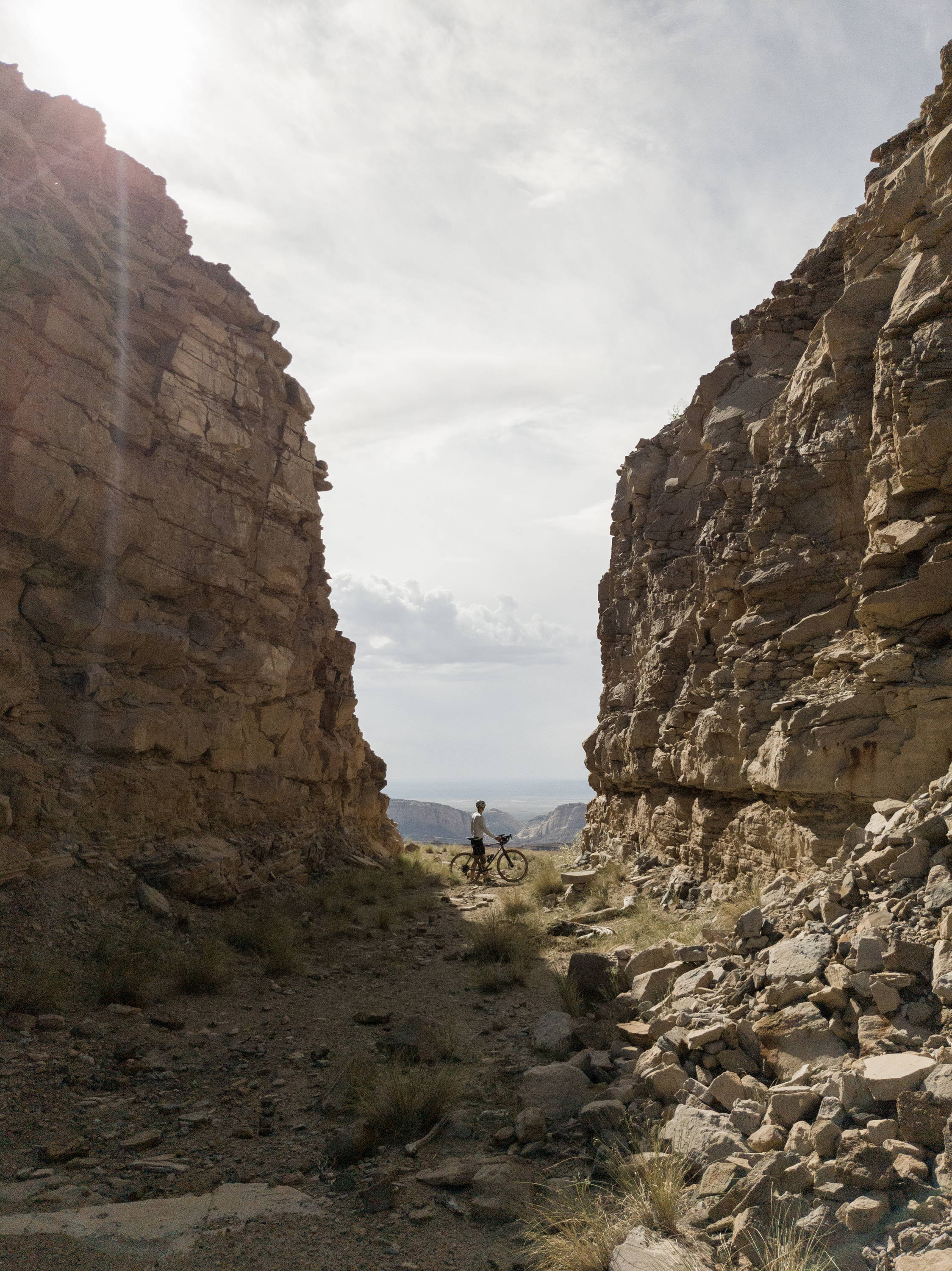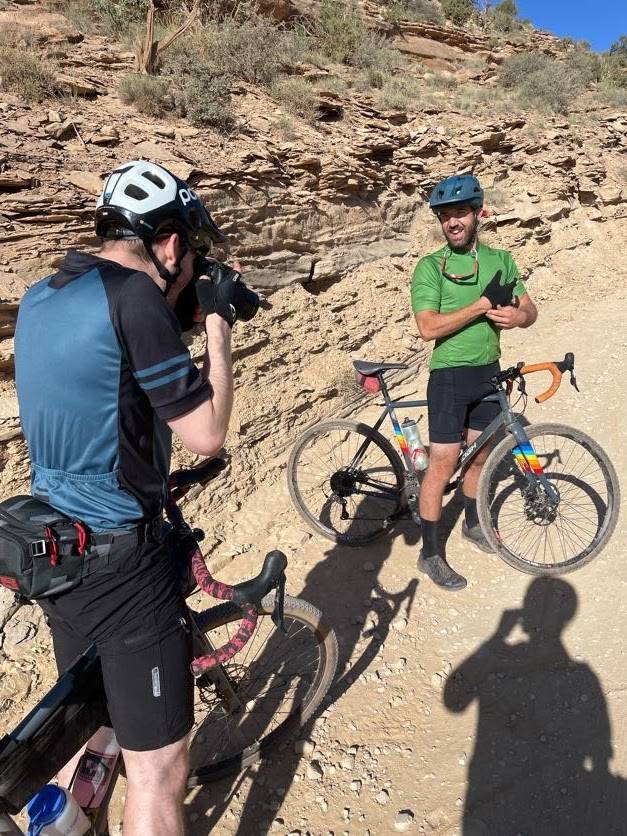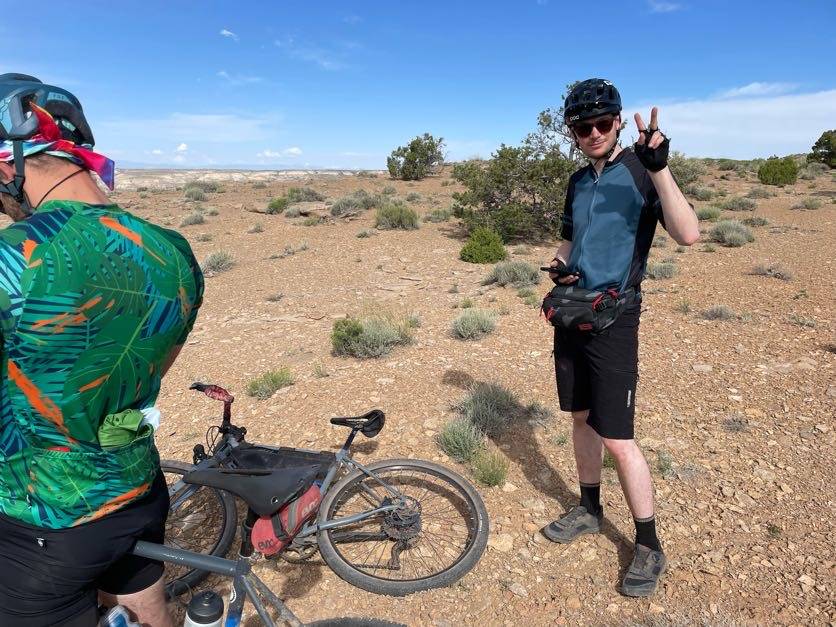 The next day, we hiked in the famous Little Wild Horse Canyon trail and explored the craziest rock formations I have ever seen. Hiking the Slot Canyon Trail made me feel like I was in some 80's Pink Floyd music video. It was trippy, to say the least. We only hiked a few miles out and back but managed to spend more than a few hours exploring these dramatic sandstone formations. Someone could easily spend an entire day hiking this trail and never get bored.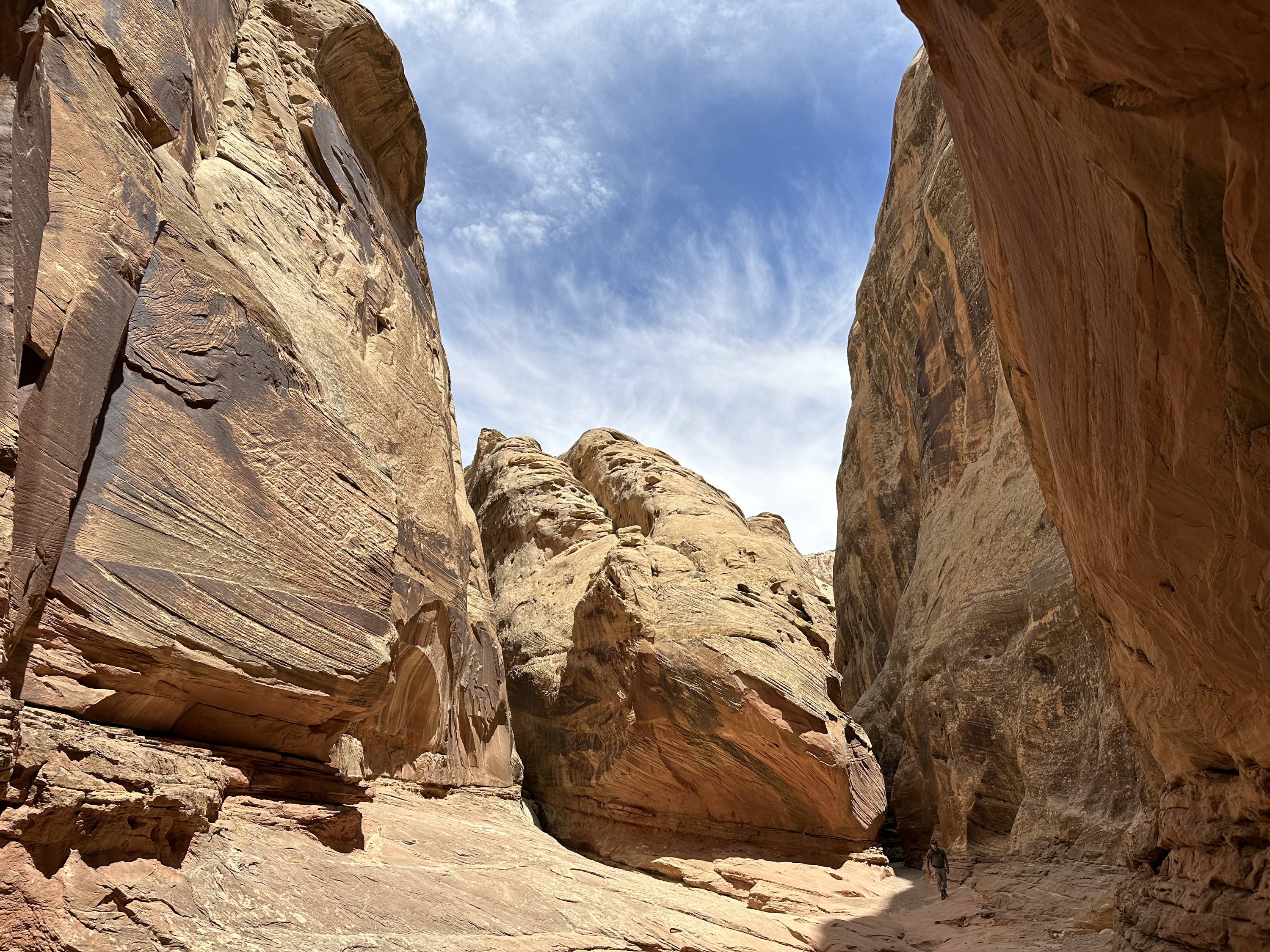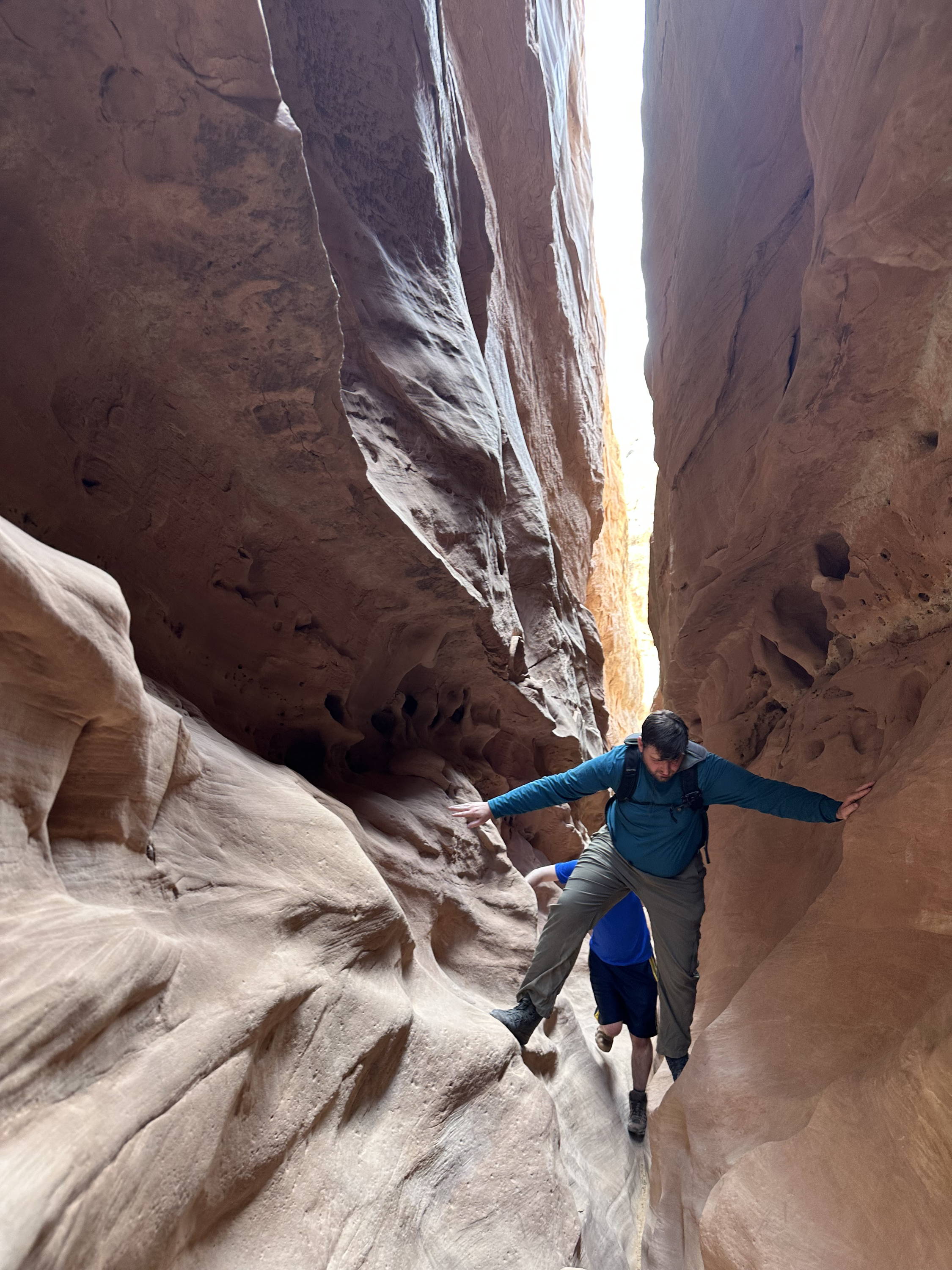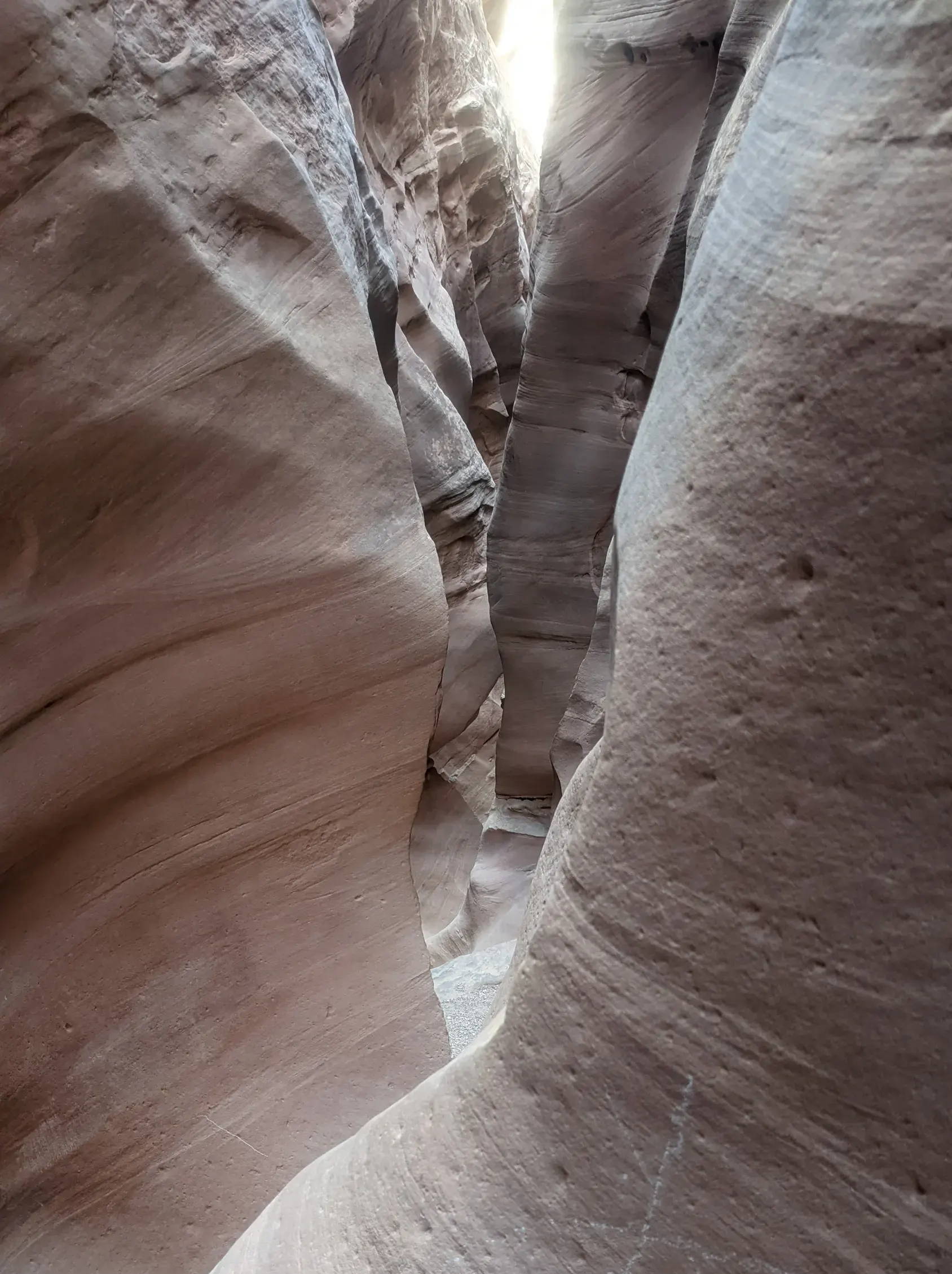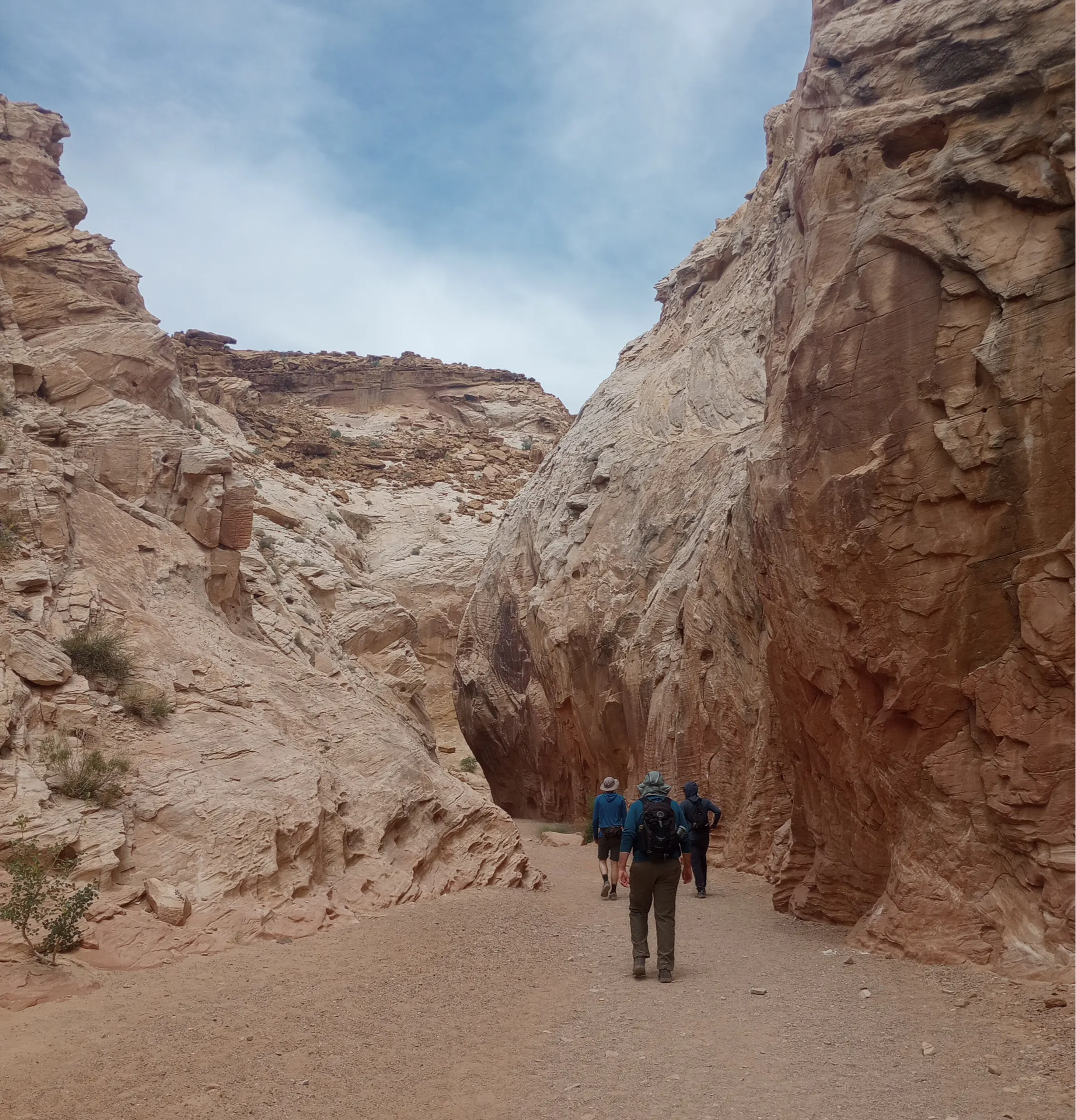 Finally Our Trip Came to an End

It was bittersweet, but we had to end our adventure finally. Luckily, Mother Nature gave us one more show. The drive back to Salt Lake City might be even better than the initial drive out to the desert as you climb and climb into the alpine mountains. We made sure to appreciate this drive as much as the first drive to start the trip. While we were tired and ready to return to our families, we were also trying to grasp hold of the stillness ever present in the desert air. If only we could capture this moment in time and take it with us or find some way to bring this tranquility back to our normal lives. That's the goal of these adventures, right? It's to remind ourselves of what it actually means to be living, to let ourselves forget time and live in the moment, to reacquaint ourselves with our true natural essence.

This trip was one hell of an adventure. We really were able to get away and separate from our normal lives and remember what living is really all about. I don't know what's more striking about the Utah wilderness: how vast it is, or how pristine? Maybe it's the combination that makes it so special. It's a reminder that the earth is majestic on its own, and we are nothing but stewards. Being out there motivates me to do a better job of stewarding this planet. We need to remember to appreciate this planet we call home. It's the only one we have, and we are pretty darn lucky to have a home as pretty as this one.
I highly recommend exploring Utah for anyone who loves the outdoors, especially if you love exploring by bike. My best advice about this place is to simply get lost (proverbially speaking) and find yourself. Breathe clean air and see the stars—every single star. Get a bike and conquer a mountain. You have the freedom to do things that make you feel alive and free out there. Just go out and explore forever.