Adventure Cycling: A Self Supported Journey & A Recap of My First Journey on the GAP Trail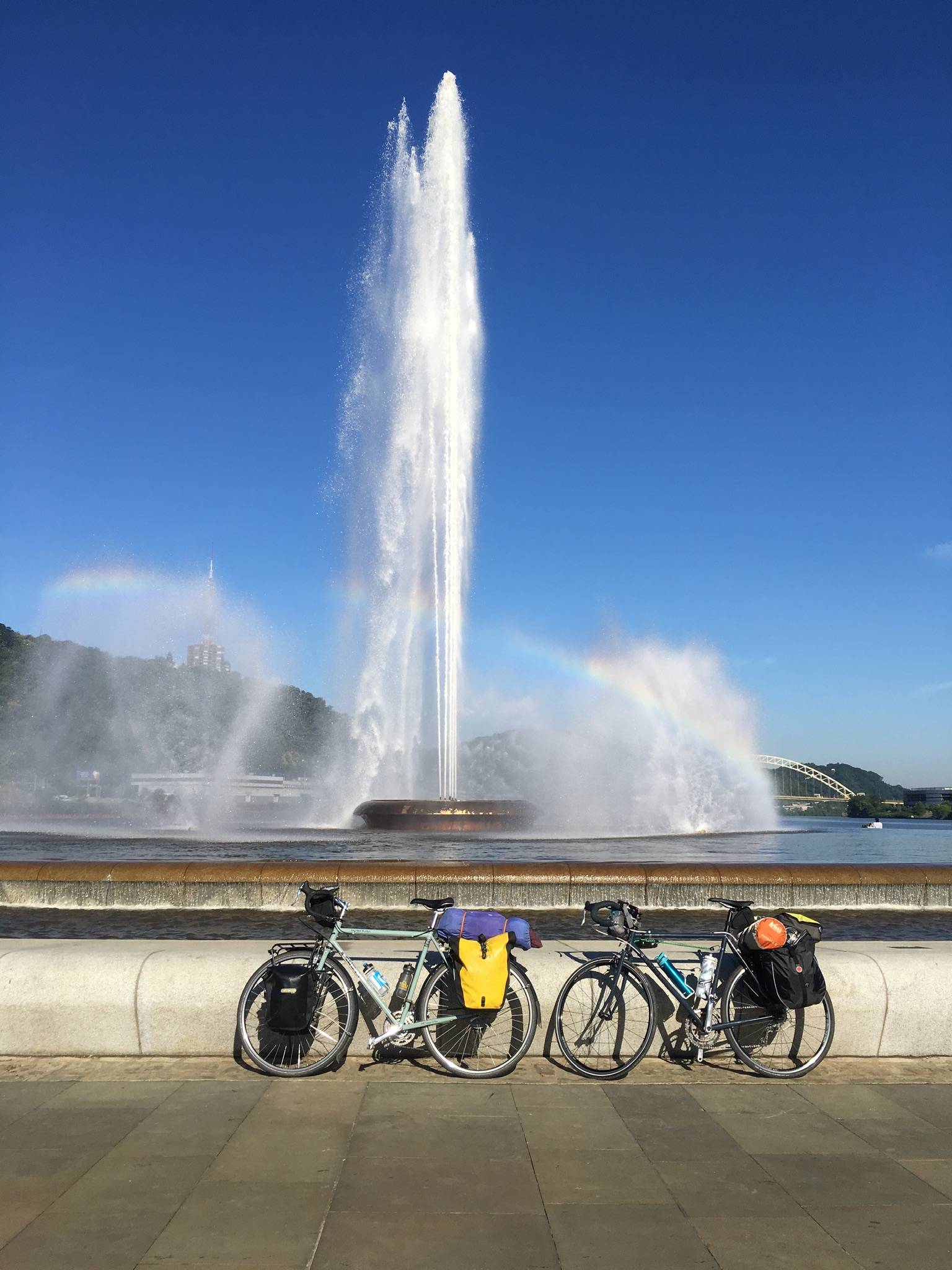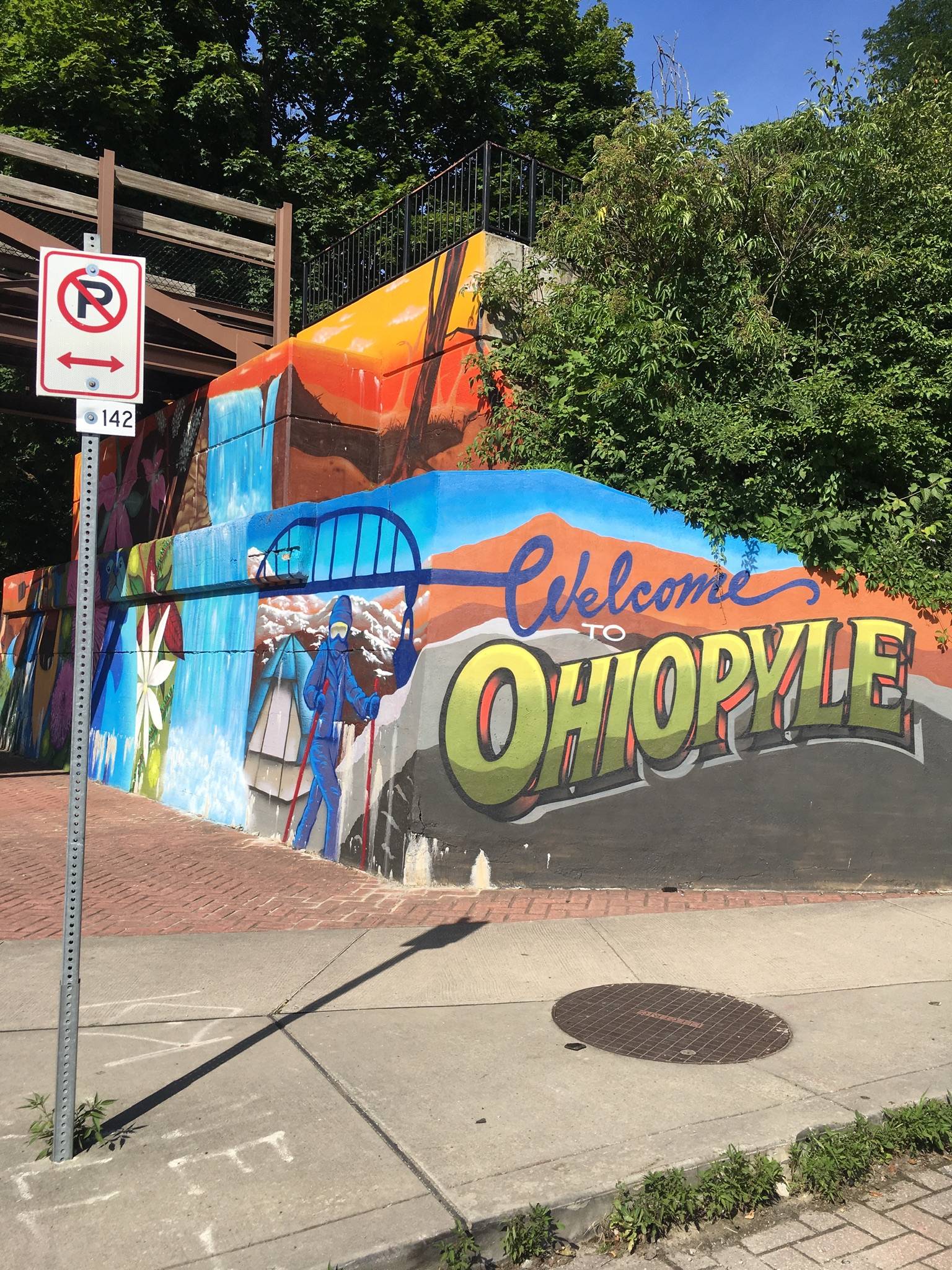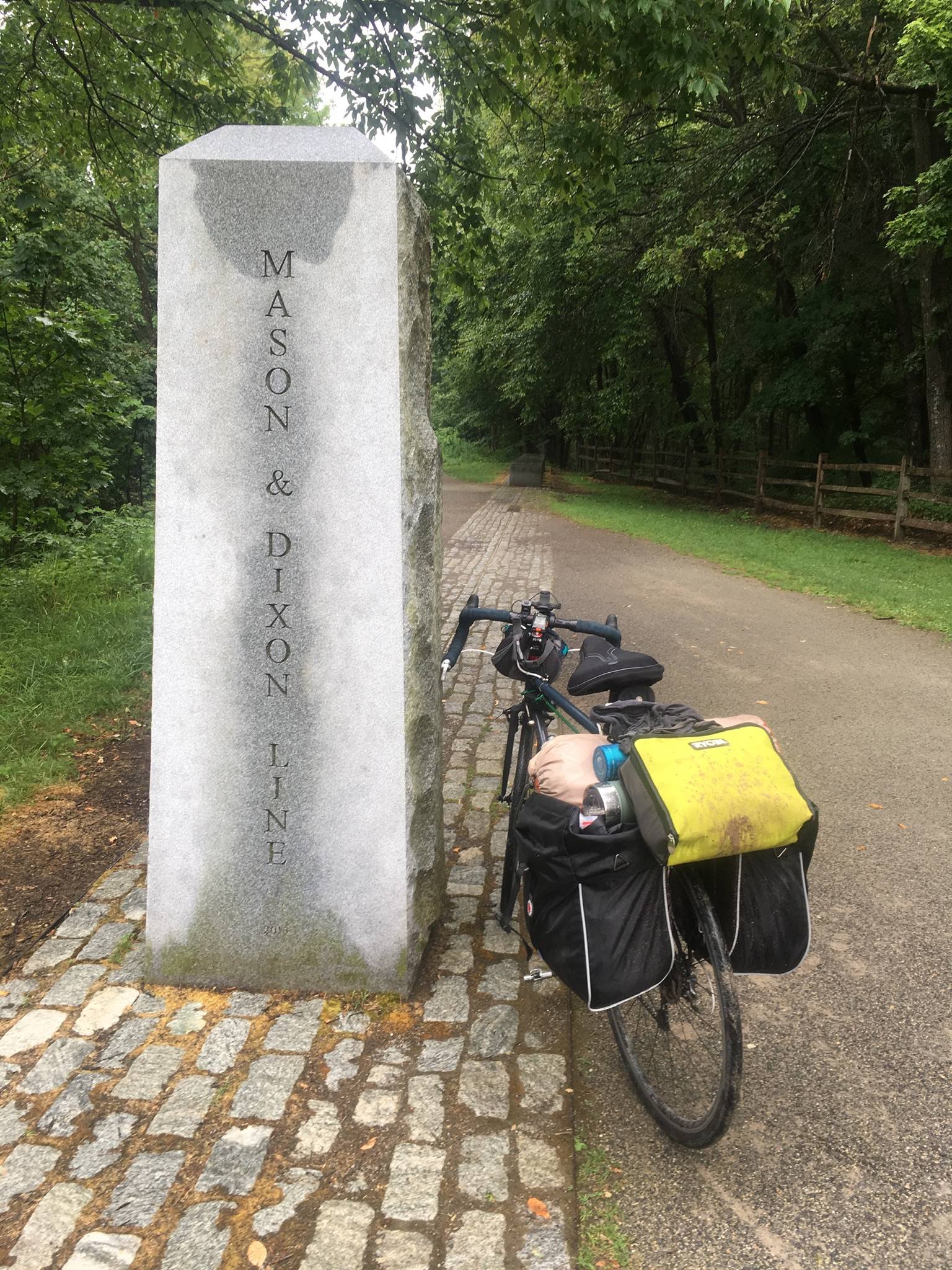 Adventure Cycling: A Self Supported Journey & A Recap of My First Journey on the GAP Trail
Adventure cycling and bikepacking involves a self supported cycling tour in which the rider carries all necessary supplies that they may need. Most tours include at least one over night. Think of bikepacking as long distance hiking. Bikepacking is a subdivision of adventure cycling that usually occurs in remote locations where the rider might have to navigate with a GPS device or maps. On an adventure, a rider will experience a variety of different terrains like fire roads, singletrack, and gravel/rocks. There is no SAG support; just a beginning and a destination and figuring out the middle as you go. Bikepacking is normally done solo or with a small group, but is not limited to that. While on a journey, most riders expect to camp at campgrounds, in the wilderness, or may opt to find a hotel here and there depending on how long the ride will take and if one is accessible.
Our most recent adventure was a trip on the GAP Trail. The GAP stretches from downtown Pittsburgh, PA to Cumberland, Md, and it covers about 150 miles. Our trip went down and back in four days. The GAP provides an easy entry into "bikepacking" because of the accessible towns and campgrounds. A rail trail journey like this falls a little into both categories of adventure cycling and bikepacking.
Bike setup is very important because when all said and done, your bike maybe carrying an extra 40 – 50 pounds, not including the weight of the bike and water. When selecting your bike it is important to keep in mind the terrain for your journey. In some cases a mountain bike might fit best, but in other situations a gravel or cross may work better. As long as you can fit enough bags on the bike, you will be good to go. The next thing you must figure out is your bag system. Will you use a rack and pannier system? This will add extra weight compared to a rackless system, but provides extra storage space. If the route includes tight single track a rackless system would prove to be better because it is more compact. Racks range from around $30 to $100 each. Waterproof panniers are essential because more than likely you will be caught in the rain, and your gear has to remain dry.
Pannier and Bag Selection
For our journey I bought an Axis rear rack and two Banjo Brother Waterproof Panniers. The panniers retail for around $50 each. This setup worked well but I had to make some adjustments to move the panniers further back on the rack so my heels didn't clip the bags every time I pedaled. All in all I was very happy with these two products. I must say, I wish I would have purchased a front rack system as well. This is not because I needed more space, but I wish I could have balanced the bike more. Having 40-50 pounds on the back and nothing on the front made the handling a little light. Plus it would be easier to find things if I had less items stuffed in each bag. It would also provide additional space to carry extra water if needed.
A handlebar bag is a must have because some items need to be easily accessible. I kept my sunscreen, cash, and nutrition bars in there for easy access. I picked up a cheap bag last minute and attached it to my handlebars. This will be upgraded to something waterproof in the future. We experienced rain on the second day, and everything in this bag was wet. Other bags to consider about include a frame pack, top tube pack, stem bags, and seat pack.
When on a long and remote bikepacking journey, one must pay closer attention to the amount of weight the rider is carrying. Figuring out what is essential and what is not has to be taken into consideration. An easy option to save a decent amount of weight is to use a hammock instead of a tent. These take up less space and save a lot of weight. Rackless panniers do not offer as much space as a traditional racked system, so you more than likely will not be able to fit everything you want to bring. When preparing you will have to make tough decisions about what is essential and what is not. At the end of the day; however, you probably will be happy that you kept your gear weight limit to 20 pounds instead of 50. Pushing a 50 pound bike up a rocky singletrack pack is not a whole lot of fun.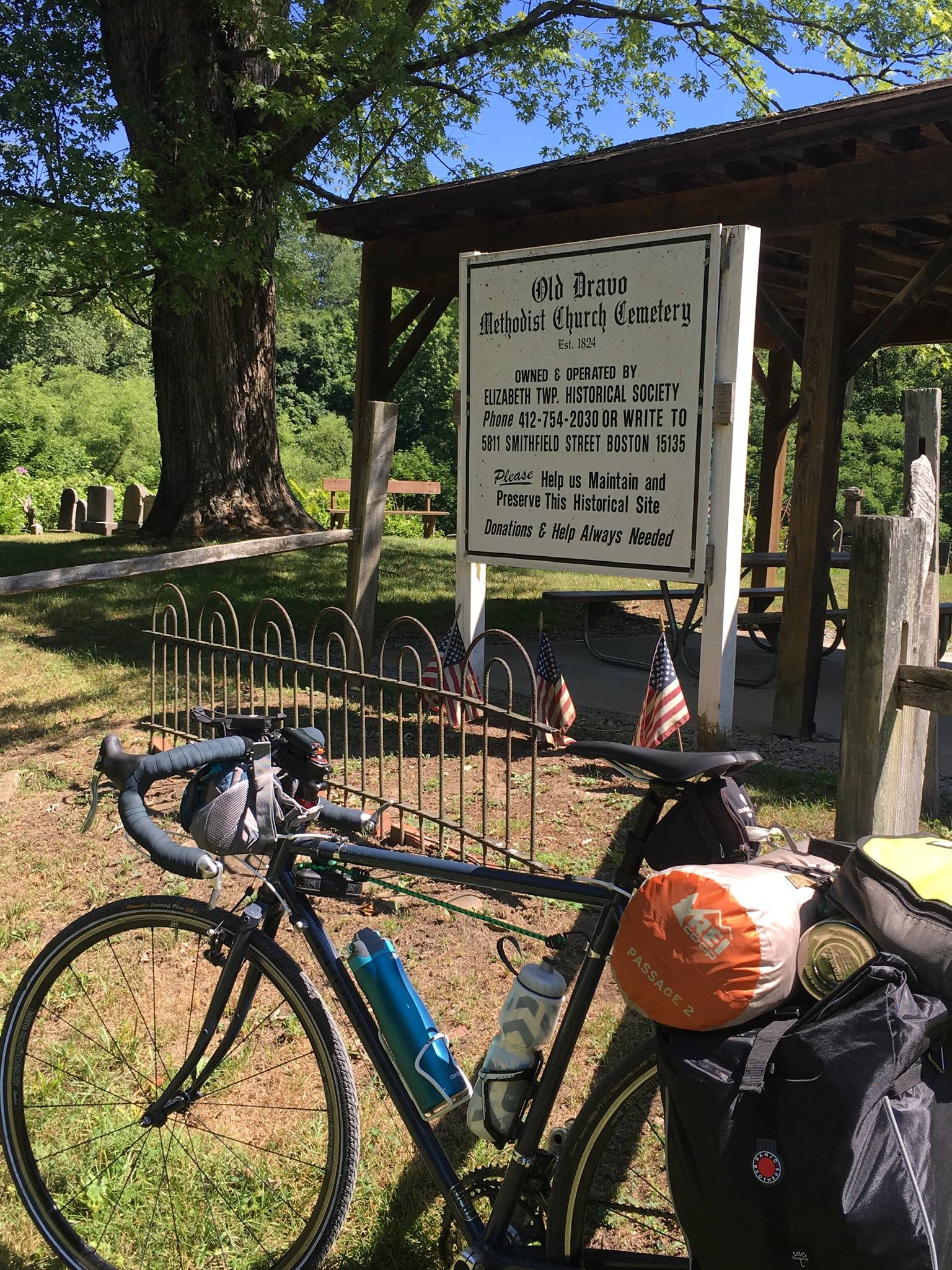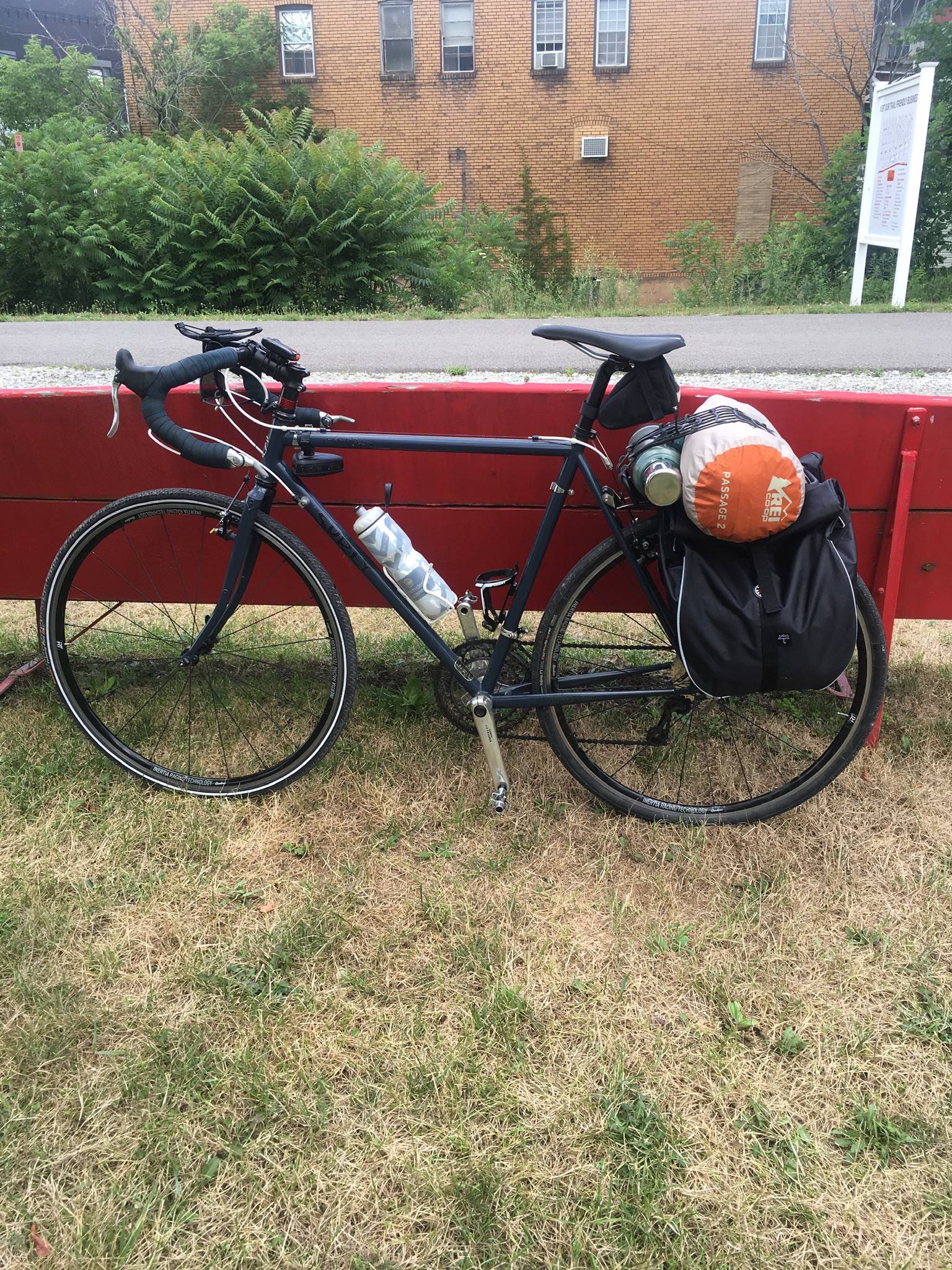 Components and Accessories
If you are running an older bike with a 9 speed rear cassette, you may want to think about re-gearing the bike. The extra weight must be taken into consideration, so you definitely will want to think about your granny gear gear-ratio. Before you leave on your bikepacking adventure, look at the elevation change that you will encounter, and adjust accordingly. I re-geared from a 9 speed 11-25(I believe) to a 10 speed 11-34, and was very happy I did. This winter I plan to switch the bike over to the new Shimano GRX groupset because I believe it would work great for both bikepacking and gravel events.
The thing about adventure cycling that you must remember is that you will be spending multiple, long days in the saddle so comfort is the main concern. You may have to test out different handlebars, saddles, gearing, and tires before you find the right combination for you. If you are not comfortable when riding two 80 mile days back to back, you will feel every second of the ride, and it will not be fun!
On this trip, I used my Surly Crosscheck and Chris rode his Surly Long Haul Trucker. Both were very capable bikes for the trip. Both bikes handled the additional weight, and ate up the crushed limestone that makes up the GAP Trail. My Crosscheck had 700x32 tires, and performed great. However, I would recommend not going any smaller than a 32. The trail is bumpy, and anything smaller can cause a rougher ride.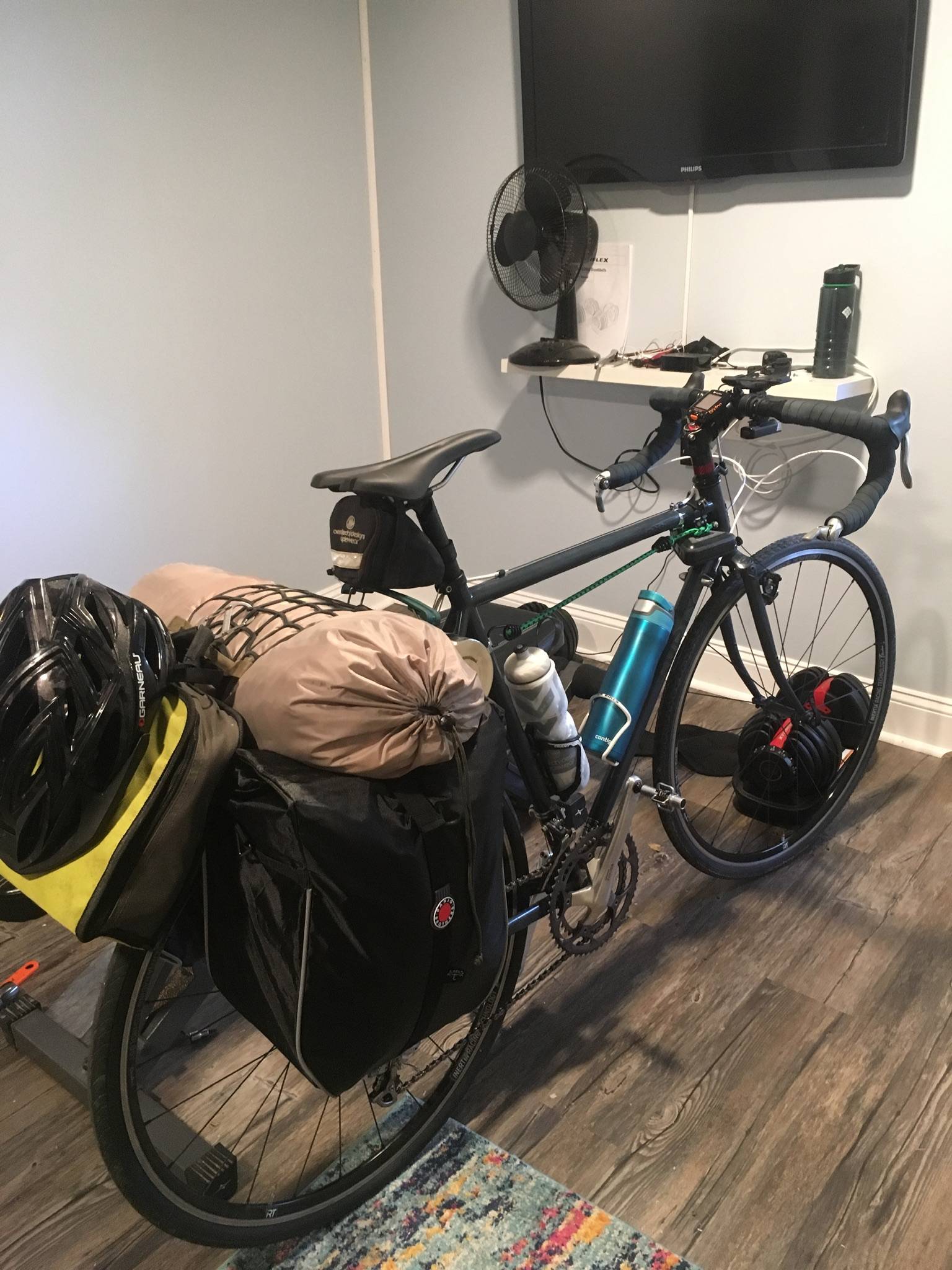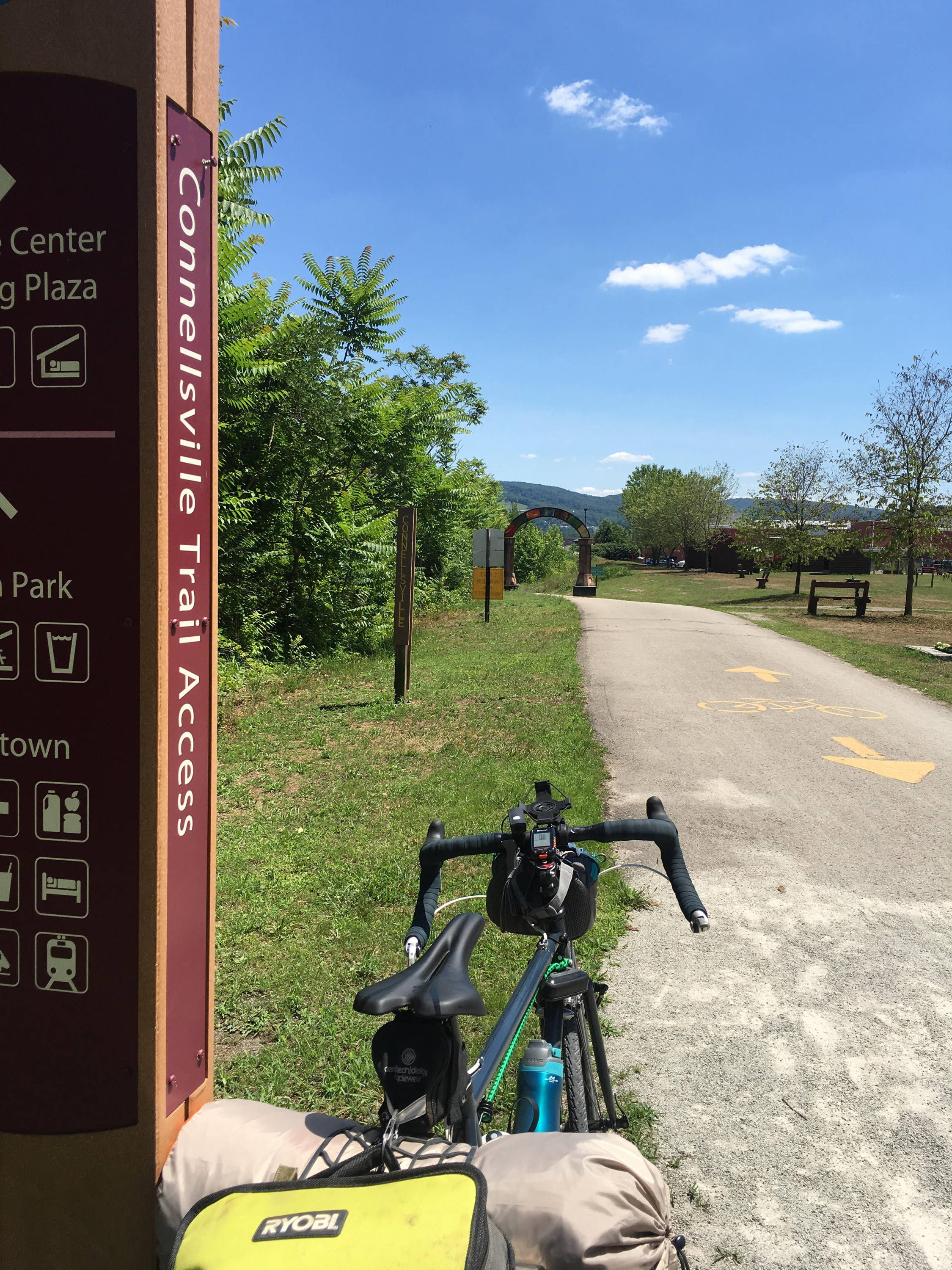 Tent selection is very important because space is limited. Of course, it depends on your needs but if you are riding solo a small 2 person tent should be the biggest you need. Don't forget the footprint. I used the REI CO-OP Passage 2 tent I purchased a few years back when they had a sale. For the mattress I used an inflatable REI mattress that came with the tent. There are many styles of camping mattresses, so find the best one for you. I personally like the inflatable mattress because it did not take up much space when in the panniers. I also used an inflatable pillow which was nice to have with me.
I mentioned earlier about camping hammocks. These offer the best of both worlds. They are lightweight, compact, and comfortable to sleep in. I will definitely consider purchasing one of these before the next adventure.
Depending on where your journey is going, food/cooking has to be taken into consideration. For us, on the GAP Trail, there are plenty of towns to plan to stop at for food and water refills. So luckily we didn't have to worry about carrying food. However, I can not start a day without coffee, so I did bring the Primus Classic Camp Stove that I picked up at Walmart for $18 and a metal cup to boil water for coffee. The Starbucks Via instant coffee is decent in a pinch.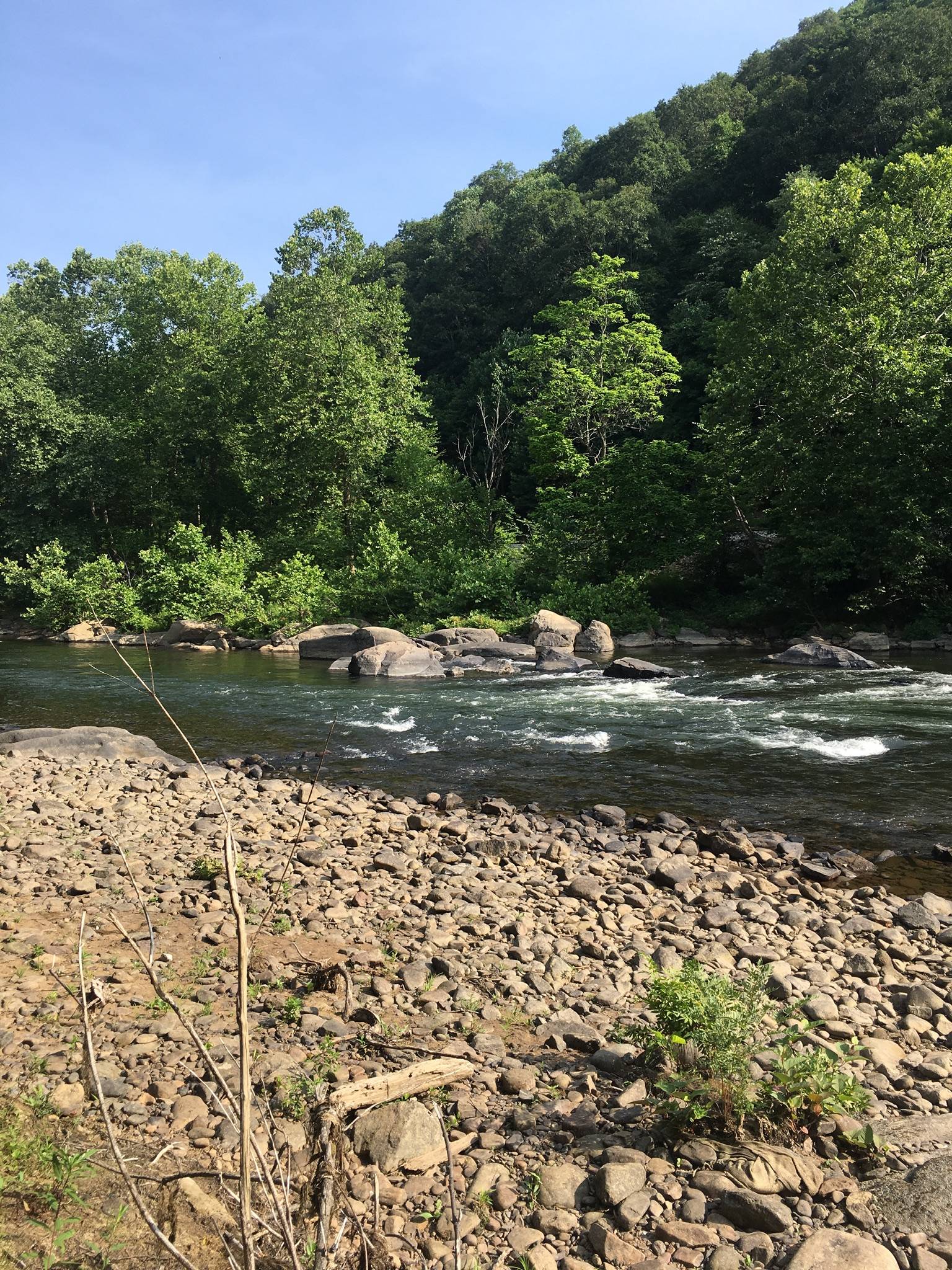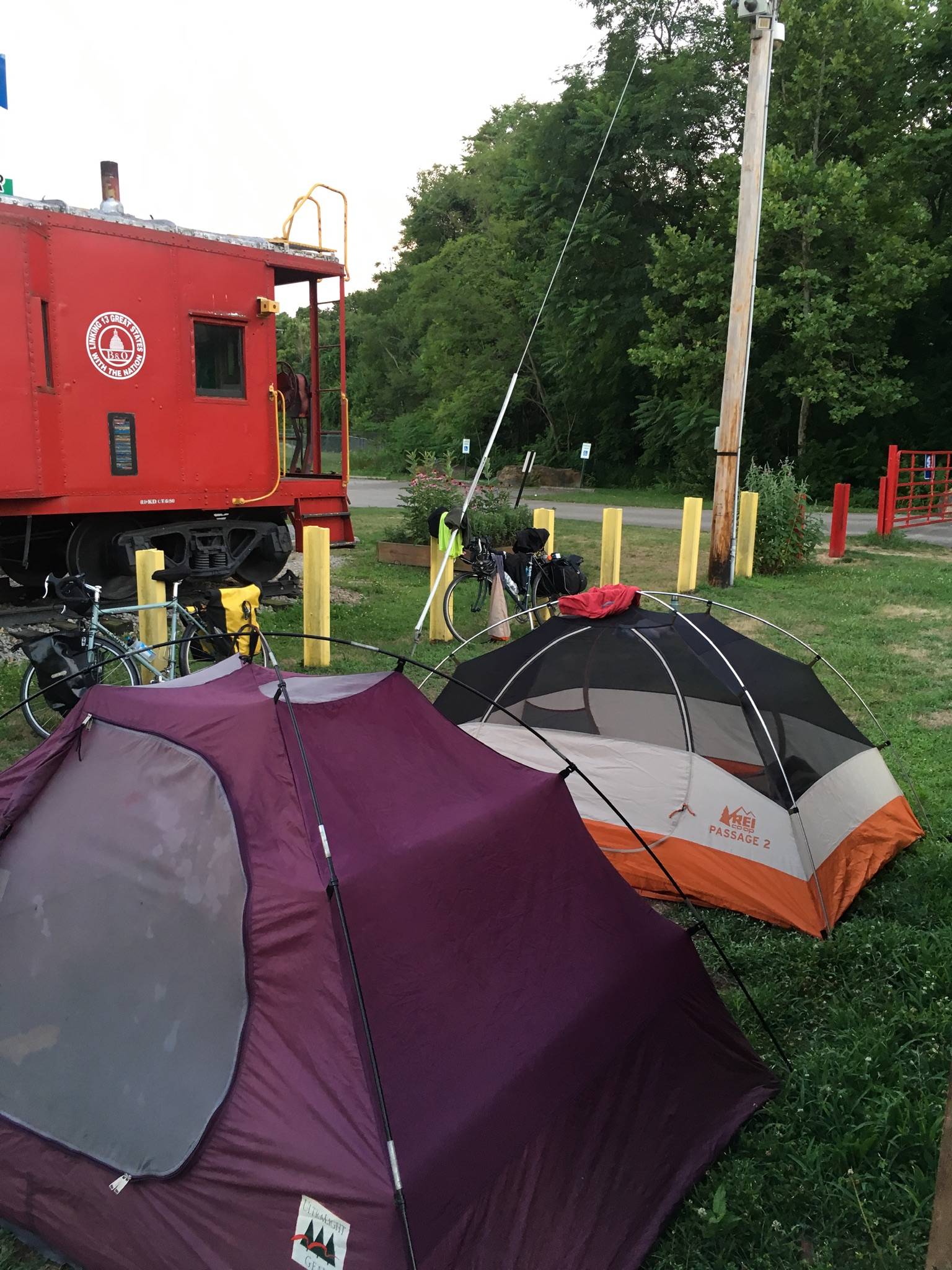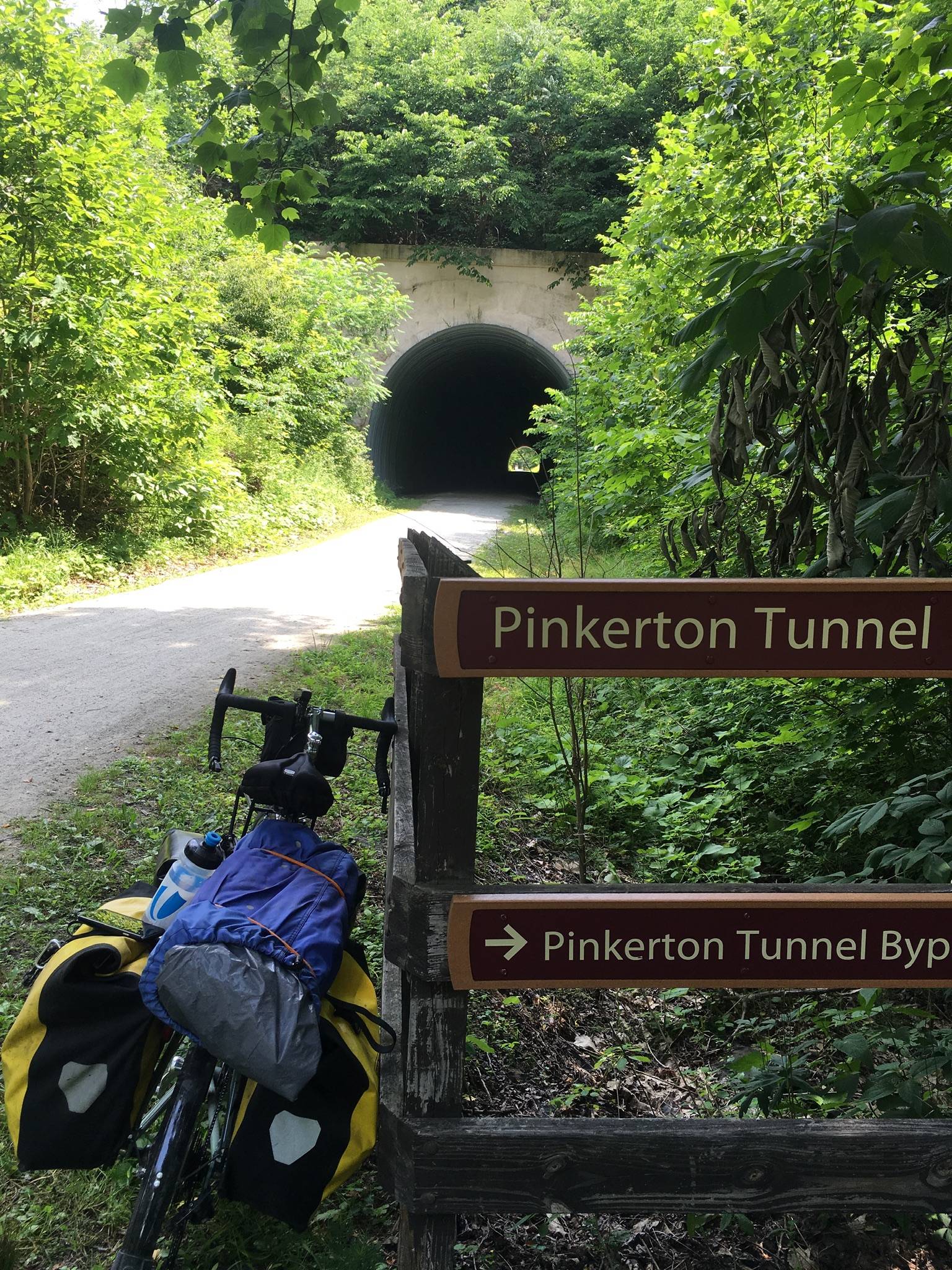 Finding the right bike short for you is important when you are spending multiple long days in the saddle. Saddle sores can ruin a trip, so bring the Chamois Buttr and use it! When staying at campgrounds take your shorts into the shower with you and give them a good wash. By the time you wake up in the morning, they will be dry and can be worn again or packed away for another day. This can really help save space if you can reuse shorts. I brought a bungee cord with me that I was able to use as a makeshift clothes line to hang dry my clothes at the end of the day. Don't forget to back a pair of sandals for the showers or rivers if you go in. When it comes to clothing for on the bike and off, my biggest recommendation is watch how much you are packing, and do not over pack.
My favorite three shorts to bring along were the Gel Touring, Elite, and All Day. All three of these shorts offer more than enough padding. Personally, I like have different chamois to switch up between the days, but that comes down to a personal preference. Whatever shorts you ride in, get plenty of test rides in before you start your trip. If you will be doing long days in the saddle on your trip, do a longer test ride before you leave. A short that is perfect for a 30 mile day may not work for you on a 60 mile day. I used the Aero Tech Designs Multi-Sport Short over top of the bike shorts. Since we stopped in a lot of towns along the way, I liked having the baggies on. Plus the added pockets are a bonus.
Gloves – bring them. I forgot mine, and after day one the handlebar tape on my dropbars were irritating my palms. I would have bought a pair, but the bike shop in Confluence was closed the day we passed through. I ended up being ok, but next I go on a bike tour, I will not forget them again.
Shoes/Socks – We both opted for clipless pedals and cleats. I just prefer it. My shoes are road style with the cleat exposed, so when we stopped to go into a town, I had to change my shoes. Not a huge problem, but a MTB style shoe might be a better choice if you are looking at shoes before your trip. Aero Tech Designs no show and quarter crew socks are a great choice for a trip like this. They are very breathable, lightweight, and go great with a cycling shoe.
It's summer, it's hot, so do not skimp on the amount of water you are carrying with you. Every day we rode was 90 degrees+, so we were going through the water. I started with my two water bottles on the bike plus a Coleman 33oz thermos. I figured that would be enough but was slightly mistaken. I ended up saving some Gatorade bottles that I purchased from a gas station and filled those up in addition. When riding the GAP Trail water is pretty easy to come across. Obviously, every town has a gas station, but there are also some water fountains along the way that offered a refill. If your trip is a bit more remote, plan accordingly. Staying hydrated, obviously, is very important. But, it actually can become easy to forget to drink enough as the miles pass by. Since the GAP has mile markers every mile, we used them as a reminder to take a drink. I brought a couple of bottles of the Mio Water enhancer with caffeine, and kept one water bottle filled with it. It was nice to have something other than water to drink, but not necessary. Like I said before, we didn't have to worry about meals, but you are really burning a lot of calories in between meals, so bring a box of your favorite granola bar with you. You will be happy you did.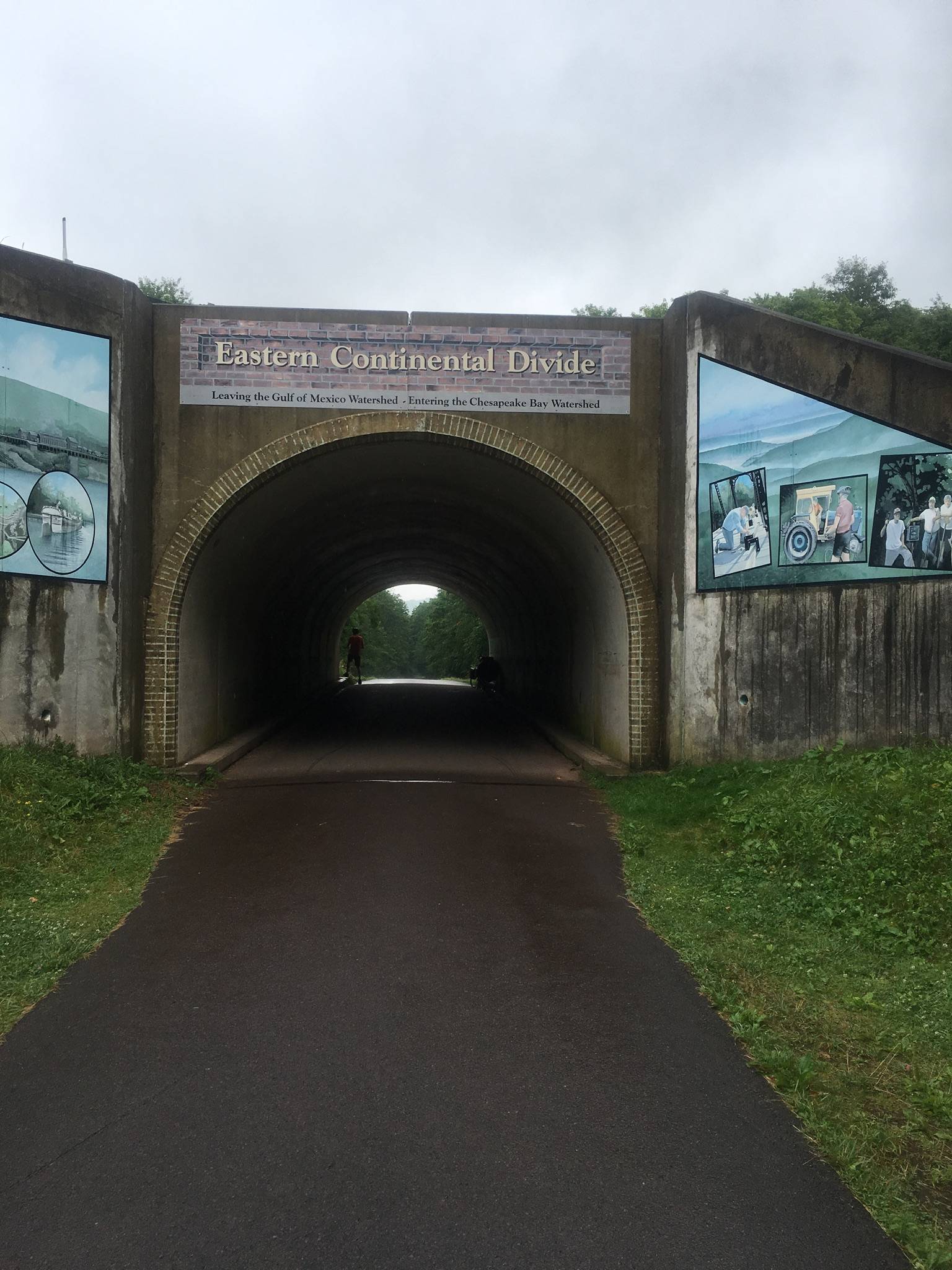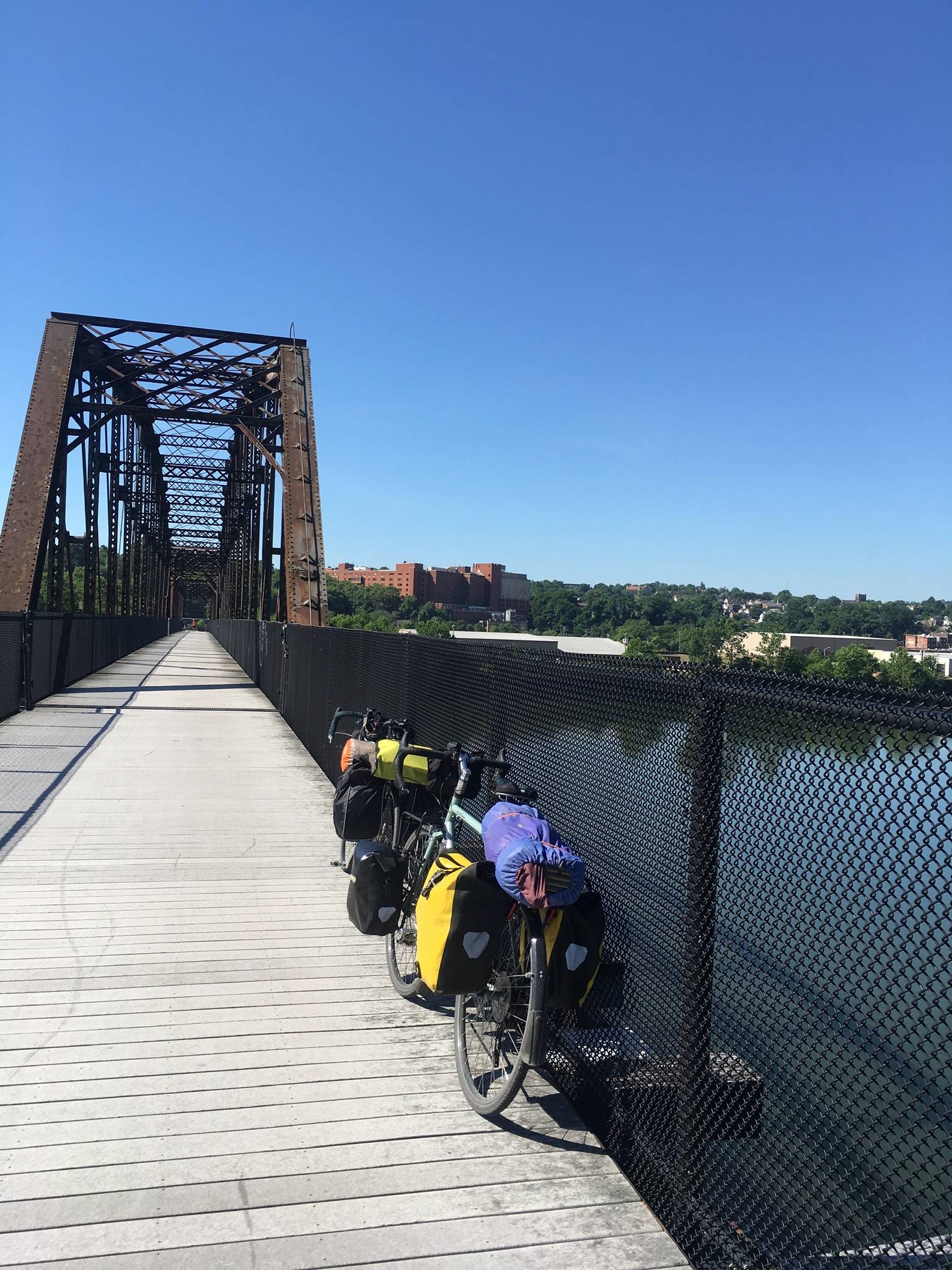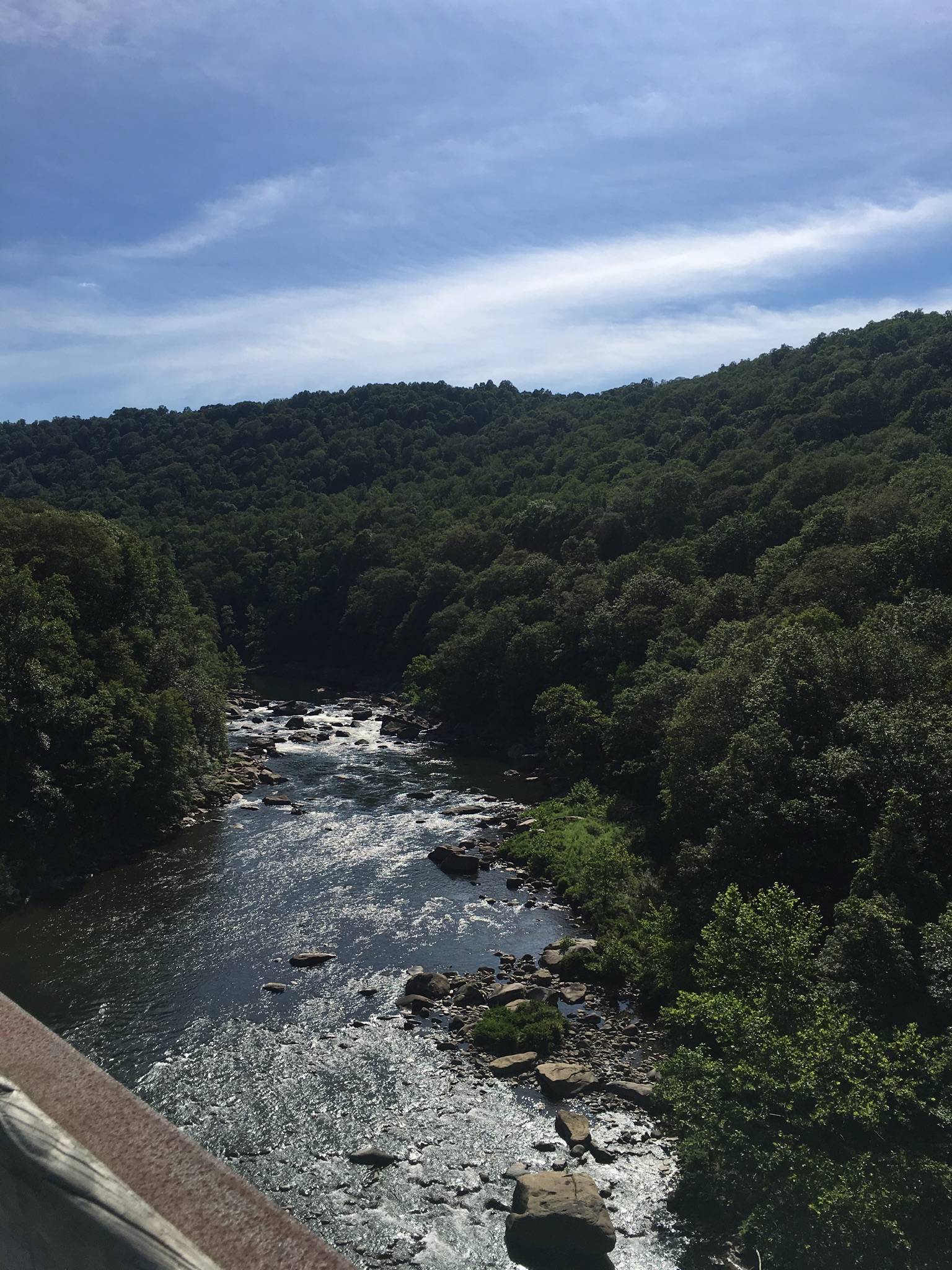 We decided to do the GAP trail from Pittsburgh to Cumberland and then back to Pittsburgh. Initially, when we were planning the trip, the plan was to go all the way to Washington D.C. If you're unaware, the C&O trail connects to the GAP in Cumberland, Maryland and takes you all the way to D.C. We ultimately decided not to go to D.C for the simple reason that the bike racks on the trains to return to Pittsburgh were completely full. In case you are planning to do this trip and catch a train, know that you must reserve a bike rack when you buy your train ticket. Another reason that made it an easy decision is the fact the the C&O trail is known to be a bit rougher of a trail. Had we gone for it, I would have had to buy different tires. The 700x32 wouldn't be a very comfortable ride, or protect against pinch flats. I would probably have gone with a 700x38 at the minimum. In fact, it was a very rainy day when we arrived in Cumberland, and we had a few locals tell us not to continue on the C&O that day because "10 miles down the trail was nothing but mud pits". So we were happy with our decision to turn around the following day.
Day one we met in the South Side of Pittsburgh, and rode to The Point. Our goal that day was to camp in Ohiopyle. With the extra mileage from SS to the Point we rode 85 miles that day. The elevation change was fairly minimal that day, and from downtown Pittsburgh to Boston (town) is paved, which is nice. One thing to note, the campground in Ohiopyle, Kentuck Campground, is on top of the mountain from the trail. Even with my re-gearing on the Surly, I still had to push up the 2 mile hill that felt like a 10%+ grade. I'm told by Fall of 2020 there should be new campsites along the trail which will be very nice.
Day two was from Ohiopyle to Cumberland Maryland. The day started with a huge downhill from the campsite back to the trail. It was not too bad, but with 60 pounds of gear pushing you down the hill, the brakes got quite the workout. From Ohiopyle to the Continental Divide there is a slight uphill grade. It is not enough of a grade to register on my Bryton Computer, but it is there. That grade plus the limestone will slow you down more than you think it will. The Continental Divide is 23.5 miles before Cumberland. Once you hit the divide it is a 1.5% - 2% downhill grade for the entire 23.5 miles which makes them go by quickly. In Cumberland, there is a YMCA that allows camping which was convenient. Mileage this day was 78.
Day three was the beginning of the return trip. Our original plan was to go back to Ohiopyle. But, after walking up the hill to the campground once, we decided it was best to put the energy to go the extra 18 miles to Connellsville. Connellsville has an adirondack camping area that was nice. There is also a Sheetz nearby which is convenient for food and beer. Mileage was 90.5.
Day four was the shortest day. It was only 60 miles back to The Point. Once you get back to Boston, you hit the pavement again. The day went fairly quick, and we were back in Pittsburgh by 1pm.
Overall it was a great journey, and a perfect start to get into bikepacking. Four days was probably on the quicker side but still very doable. It would be nice to take an extra day and be able to spend more time in Ohiopyle. Overall, the GAP Trail lived up to expectations, and I can not recommend it enough to anyone.
READY TO START YOUR ADVENTURE?
Bikepacking and adventure cycling is something that everyone can enjoy. It does require a good bit of planning and physical activity, but that just makes completing the journey that much more satisfying. Rail trails, like the one we rode, offer a good entry into the bikepacking world. These trails are a great way to get some experience before planning a more difficult and remote trip. There are a few rail trails all over the USA that offer the same kind of trip that we planned, so there may be one closer to you. Of course, if you travel to Pittsburgh to ride the GAP, you can get an added bonus by visiting us!